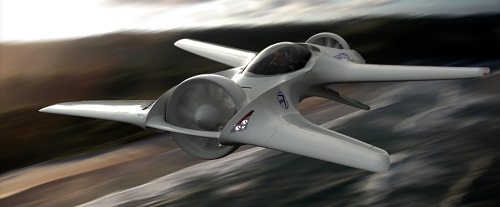 An artist's rendition of the DR-7. Source: DeLorean Aerospace "Roads? Where we're going we don't need roads." –Dr. Emmett Brown in "Back to the Future"
There are few images in pop culture that match the iconic nature of the flying DeLorean from the 1985 motion picture "Back to the Future."
But as we near a world where flying cars may become a reality, it makes perfect sense that the DeLorean namesake be added to a growing list of start-ups vying for the next generation of transportation.
DeLorean Aerospace is working on its own flying car—a two seat vertical takeoff and landing (VTOL) personal air vehicle that will launch into competition with AeroMobil and PAL-V, both of which have recently announced their plans for flying cars, as well as a good handful of other companies.
The company was formed by Paul DeLorean, the nephew of John DeLorean, the founder of the classic car, and who functions as CEO and chief designer of the startup.
The DR-7 will feature a monocoque composite body, efficient wing design and tandem seating configuration while the weight will be sufficiently reduced for speed and maneuverability.
The 20-foot long by 18.5 wide flying car is currently in the prototype phase with two scaled down models created to get the right design. However, plans are to make the vehicle fully electric and eventually able to travel for about 120 miles on a full charge. As with other electric vehicles, the challenge will be to match the right distance with the right battery to enable enough flight time but not make it heavy enough to be problematic for maneuvering in the air.
DeLorean Aerospace plans to have a complete full-size flying prototype by the end of the year.