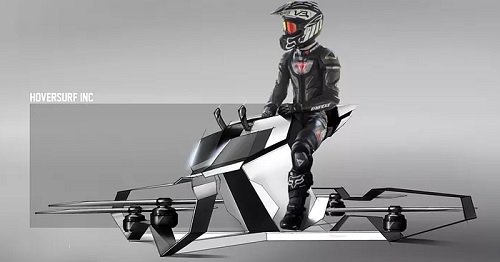 The Scorpion Hoverbike with a brave passenger. (Source: Hoversurf)Hoversurf has issued a new video showcasing its latest innovation: the Hoverbike, a half helicopter drone, half motorbike capable of carrying one passenger.
The Scorpion Hoverbike is a single-seat aircraft that combines a motorcycle seat with quadcopter drone technology. The prototype is billed as a platform for extreme sports, but the company isn't ruling out that it might find a way into mass transportation at some point.
The Hoverbike uses in-house custom software for full manual and automated control, and its frame is based on a heavy-duty, sport-utility motorbike.
While the new video doesn't show much in terms of what the Hoverbike can do beyond just lifting off and landing, the company says the machine can surf through the air by changing altitude and direction.
Needless to say, if you aren't chopping limbs off or taking a corner too soon and plummeting to your death, it might be a good way to get around your commute every day. But given how often drones crash, that's a new extreme sport altogether.
Hoversurf is currently taking pre-orders for Scorpion Hoverbike, so if you want to go out in style, visit: https://www.hoversurf.com/