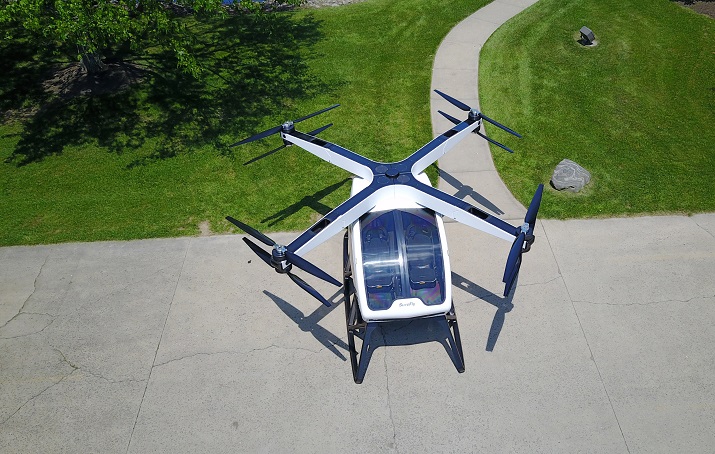 The SureFly hybrid/electric personal helicopter. (Credit: Workhorse Group Inc.)
It's a personal helicopter. And if you happen to be Oshkosh, Wisconsin at the end of July, you can see it on display – for the first time in the country.
Called the SureFly, it's a concept created by Workhorse Group Inc., a technology company focused on providing electric mobility solutions to the transportation sector. The company says that the goal of SureFly is to be safer and more stable than a typical helicopter, due to its redundant design – four propeller arms with two fixed, contra-rotating props apiece, each operating independently. Those propeller arms fold down to minimize the footprint, allowing it to fit inside a standard garage. There's also a gas combustion engine to generate electricity and a parallel battery pack offering a redundant/backup power source, so long battery charges between flights are eliminated. In the event of an engine failure, there's even a ballistic parachute to bring the craft down safely.
The design leverages platform battery packaging, management systems and controls already in use in Workhorse's commercialized medium-duty, extended-range-battery electric vehicles. Designed for short hops with a range of approximately 70 miles, the aircraft is currently undergoing ground testing; the company expects to have FAA certification by 2019.
The SureFly is a two-seater that's designed to be easy to pilot, although this may be a moot point -- future models will be designed for autonomous flight, capable of carrying payloads up to 400 pounds. Anticipated markets are precision agriculture, emergency responders, city commuters and the military.
More specs:
Piloted vehicle designed to carry pilot and passenger, or pilot and cargo
Electric-driven props: 2 contra-rotating props per arm; eight motors, each driving a single propeller
Fix prop pitch and no transitional parts (wings, tail, tilt rotor, tilt wings) for simplicity and safety
Gasoline piston engine drives dual generators to provide power to prop motors
Dual lithium battery packs: 7.5kWh each, used for emergency landing power (5 minutes) in the event the gasoline generator fails
Fuselage and props are carbon fiber for durability and light weight
Curb weight: 1100 lbs.
Max takeoff weight: 1500 lbs.
Top speed: 70 mph
Flight ceiling: 4000 feet
One hour of flight time available per tank of gasoline
Estimated cost is under $200,000, and the company is already accepting pre-orders.