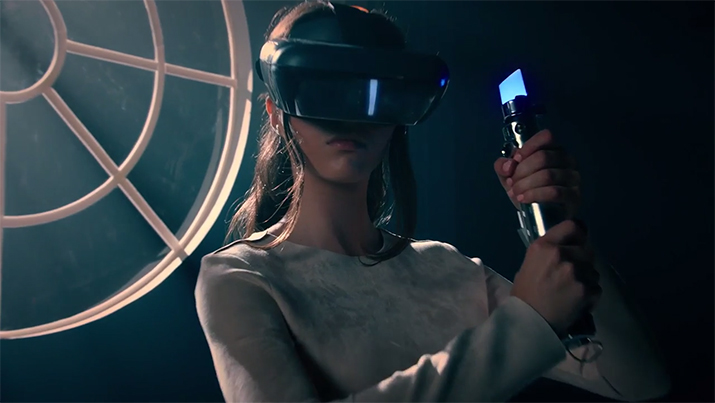 Still from sneak peek for Jedi Challenges.If you weren't in Anaheim, California, for Disney's D23 Expo 2017, you didn't miss much. Unless of course you're into Star Wars, heroes of the Marvel universe or virtual reality.
Yep. Disney Consumer Products and Interactive Media (DCPI) revealed new details and offered first looks at some groundbreaking virtual reality and augmented reality gaming experiences, including Jedi Challenges — an AR product designed to give Star Wars fans an opportunity to recapture favorite movie moments, like wielding a light saber or playing holo-chess aboard the Millennium Falcon.
Other highlights included a first look at Marvel Powers United VR, a first-person multiplayer VR game from Marvel and Oculus in which players can team up with friends to engage in immersive, cooperative fights across the Marvel universe. A game demo for fans will be offered at the upcoming San Diego Comic-Con. Elsewhere in the Marvel universe, a new look at an older, more experienced Spider-Man will be part of Play Station 4's exclusive Marvel's Spider-Man, and the dimension-hopping Lego Marvel Superheroes 2 will be coming to Nintendo Switch later in 2017.
And more Star Wars: A single-player campaign is part of Star Wars Battlefront II, an original story told from the unique perspective of the Empire. The game, set to release in November 2017, also introduces a new character, Iden Versio, Imperial Special Forces commander during the Battle of Endor featured in the film Return of the Jedi.
Billed as the "ultimate Disney fan event," the biennial D23 Expo brings together all the Disney worlds under one roof for three days packed with presentations, pavilions, sneak peeks and more. The name "D23" pays homage to the opening of Walt Disney's first Hollywood studio in 1923. There's also an official fan club offering various member exclusives throughout the year.
And if you don't want to just read about it after the fact next time, you could certainly keep your eyes peeled for announcements about the D23 Expo 2019. Fair warning, though: Tickets for the 2017 event went on sale a full year in advance.