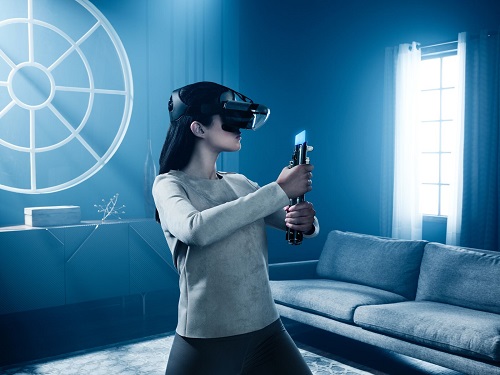 The augmented reality app works with Lenovo's Mirage AR headset. Source: LenovoLenovo and Disney are teaming together to create a new augmented reality "Star Wars" product that is played via smartphone or other mobile device and powered by the Mirage AR headset.
"Star Wars: Jedi Challenges" is part of the Force Friday II, celebrating the launch of new "Star Wars" products. The AR program will be compatible with both Android and iPhones. The game will include multiple augmented reality-based levels that span the gamut of the "Star Wars" universe while introducing new characters and ways users can train to perfect their lightsaber skills.
The augmented reality system includes a mobile device app that is compatible with the Lenovo Mirage AR headset, which allows for full gaming immersion with a tracking beacon that is placed on the floor and acts as a base for the headset's sensors to detect movement.
The headset includes two built-in fisheye sensors for positional tracking for free motion for a user to move around in lightsaber duels. Visible light-tracking technology works to lock onto the position of the lightsaber controller and pointer for players to navigate the user interface, controls, actions and commands through a two-button configuration.
The system includes a lightsaber so fans can train against dark side villains, including Kylo Ren and Darth Vader, join in battles with other players of the Rebel Alliance, Empire or First Order, and play Holochess, much like the game that was played on board the Millenium Falcon in "Star Wars: Episode IV: A New Hope."
"We believe augmented reality will usher in a new era of storytelling and play an important role in the experiences we create for our fans," says Kyle Laughlin, senior VP of Games and Interactive Experiences at Disney Consumer Products and Interactive Media. "With Star Wars: Jedi Challenges, we're bringing together the latest technology and one of the most recognized franchises in the galaxy to fulfill the wishes of anyone who's ever wanted to wield a lightsaber or take on empire forces on the battlefield."
The "Star Wars: Jedi Challenges" AR app will be available in certain markets beginning in November.