According to
Mouser Electronics
 Inc., its 
Project Heroes
 video series, developed in conjunction with Marvel Entertainment, has exceeded 1.3 million views on YouTube. Mouser and Marvel are bringing to life Superhero technology straight from the movie 
Captain America: Civil War
 through the video series as part of Mouser's 
Empowering Innovation Together
™ program.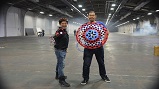 Fans can see a working version of Captain America's shield on YouTube.
The videos, designed to educate and entertain future engineers and fans of the Marvel Cinematic Universe, follow former "Mythbusters" star Grant Imahara and viral video celebrity Allen Pan through the creation of working versions of Captain America's shield and Iron Man's famous gauntlet. The videos describe the full build process—from concept to the final unveiling—to show tech lovers the real-life possibilities of Superhero technology built with new parts from Molex and Analog Devices.
"Seeing so many people connect with this video series is exactly what drives us to keep innovating and have a meaningful connection to engineers throughout the world," said Kevin Hess, Mouser Electronics' Senior Vice President of Marketing, in a statement. "Our customers are truly inspired seeing that Mouser Electronics gives even the most imaginative ideas a possibility to come to life."
While Imahara concentrates on building a fully articulated Iron Man gauntlet—complete with lasers— Pan builds a controllable Captain America shield capable of flying back to his arm using drone technology.
After this Superhero series, the 2016 Empowering Innovation Together program will find Imahara and Mouser exploring space technology and even 3-D printing a car.