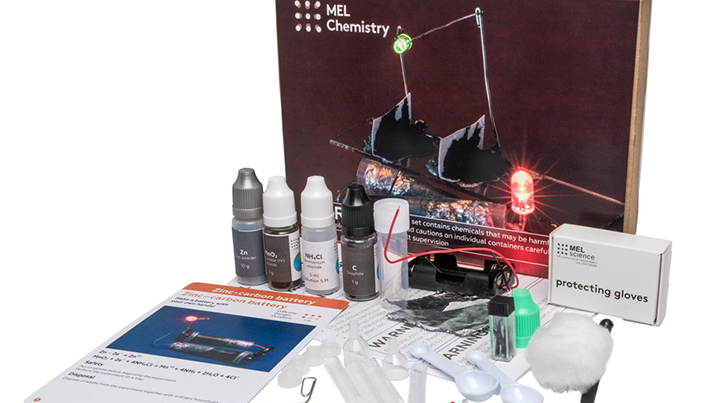 One chemistry experiment in the MEL Chemistry subscription involves creating a zinc-carbon battery. (Credit: MEL Science)I don't know about you, but I always wanted one of these when I was a kid.
Of course, when I was a kid, chemistry sets contained all kinds of dangerous materials. My parents may have been doing the neighborhood a favor in keeping the uranium out of my curious little clutches. But the "geology set" they got me instead – a bunch of rocks, basically – was a poor substitute for what I really had my heart set on.
So when I came across MEL Science the other day, my sense of childhood wonder was reignited. This innovative little company, with offices in London and St. Petersburg, Russia, has created a subscription-based, educational package for kids consisting of 38 hands-on chemistry sets, each including everything needed to conduct two to three safe experiments. There's also a smartphone/tablet app that serves as a "3D microscope" enabling visualization of each experiment at the molecular level. And you get personal website access, where you can find out more about the topic of each experiment.
About that "safe experiments" thing: I know what you're thinking. This is probably the chemistry set equivalent of watching paint dry. But even though the website promises "no explosions," the Starter Kit looks pretty darn promising: it includes virtual reality goggles inspired by the Google Cardboard design, two plastic syringes "for experiments involving gases," a solid fuel stove "for experiments requiring an open flame," a macro lens that adds high magnification capability to your smart device and more.
According to the MEL Science website, the company was founded by a small team of science geeks, most of whom became "seriously addicted" to science in childhood. Not sure how young they were when that happened, but they've tested every experiment set on kids age 12 and up. They've also included detailed graphic instructions designed for kids to easily follow, and – perhaps most importantly – they've verified all reactions (in other words, all of the experiments will work).
The two-box-per-month subscription, which can currently be shipped only to addresses in the U.S., U.K. or Russia, costs $49.90 per month. That might sound high, but just think of what you're probably paying for cable TV. I say cut the cord and go for this instead. And shipping is included in the subscription price.
Now if I could just find a place to order a time machine to bring me back to childhood...