Stanford University engineers have modified a robotic system using off-the-shelf parts that can be used by elementary and secondary school students for use in biology, chemistry and medicine experiments.
The kit combines Lego Mindstorms robotics kit with a cheap and easy-to-find plastic syringe that is capable of transferring precise amounts of fluids between flasks, test tubes and experimental dishes.
Because wet sciences often involve fluids, schools find it difficult to create robotic projects to give students hands-on inspiration. The goal of the project is to provide a cheap way to give students the ability to learn robotics and life sciences without breaking a school's budget.
"We show that with a few relatively inexpensive parts, a little training and some imagination, students can create their own liquid-handling robots and then run experiments on it – so they learn about engineering, coding and the wet sciences at the same time," said Ingmar Riedel-Kruse, assistant professor of bioengineering.
How It Works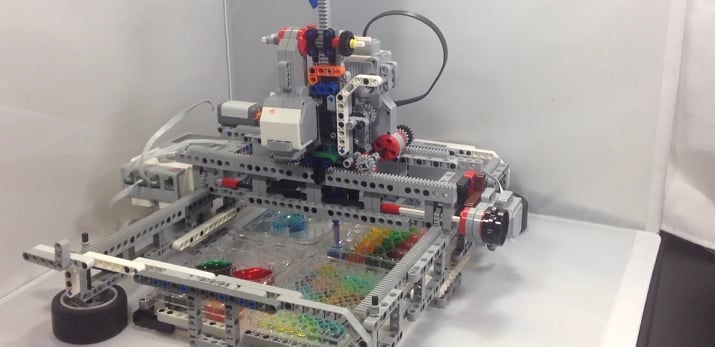 The robotic kit is made from off-the-shelf parts that help students learn biology, chemistry and medicine. Source: Stanford University The robots pipe fluids from and into cuvettes and multiple plastic containers commonly used in laboratories. The robot can handle liquid volumes far smaller than one microliter, a droplet about the size of a single coarse grain of salt. Stanford researchers believe the Lego designs might also be useful in markets outside of schools for specific professional or academic liquid-handling tasks where robots cost many thousands of dollars.
The kit allows students to learn STEM skills like mechanical engineering, computer programming and collaboration while achieving knowledge on how robots and how they are useful in life sciences, according to Stanford.
"I saw how students and teachers were already using Lego robotics in and outside school, usually to build and program moving car-type robots, and I was excited by that – and the kids obviously as well," said Riedel-Kruse. "But I saw a vacuum for bioengineers like me. I wanted to bring this kind of constructionist, hands-on learning with robots to the life sciences."
Stanford researchers offer step-by-step building plans and experiments targeted to elementary, middle and high school students including using household consumables such as food coloring, yeast or sugar. One such experiment involved colored liquids with distinct salt concentrations being layered atop one another to teach about liquid density. Other tests measure liquids like vinegar, bases like baking soda and another uses color-sensing light meters to align color-coded cuvettes.
The coding of the robot is easy as students place symbols in a programming language to tell the robot what to do -- such as start, turn on a motor, do a loop and more. In other experiments, students preprogram all motor actions to watch their experiments executed automatically.
These activities help promote STEM learning, the cross-disciplinary instruction value that integrates robotics, biology, chemistry, programming and hands-on learning in a single project.
"We would love it if more students, do-it-yourself learners, STEM teachers and researchers would embrace this type of work, get excited and then develop additional open-source instructions and lesson plans for others to use," Riedel-Kruse said.