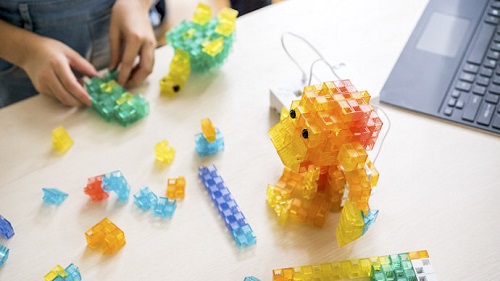 KOOV features blocks, sensors, motors and more that can be assembled into any shape. Source: Sony Sony Electronics wants to bring a cool coding and robotics kit to kids to enable science, technology, electronics, art and math (STEAM) skills for a new generation of young innovators. But it isn't sure how well it will be received yet.
So the Japanese electronics giant has launched a limited Indiegogo crowdfunding campaign to gauge interest to see if consumers in the U.S. are interested in the STEAM kit. KOOV has already been launched in Japan and China and Sony is looking to gain feedback and insight into the American market with the campaign.
KOOV is an educational kit made up of blocks, sensors, motors, actuators and a companion app that teaches children about the core concepts of design, coding and robotics. The app also allows kids to share their designs and code with other inventors around the world.
Like LEGOS, the blocks can be assembled into any shape with the final design being controlled as a robot. The blocks include seven different translucent blocks and code is then programmed through the KOOV app to get the robot to move. While there are "recipes" to build different designs, the blocks can be made into anything allowing kids to use creativity and imagination in design.
Sony says KOOV is not a toy but a tool to lead kids in the right path toward a future in science and technology. Through inclusive colors, shareable designs and the goal of building a future in STEAM learning, Sony hopes to attract parents of children 8 to 14 years old.
The crowdfunding campaign has begun with kits beginning at a price of $359. Kits are slated to begin shipping in early December.
To learn more about KOOV and to pre-order the kit, visit https://igg.me/at/KOOV