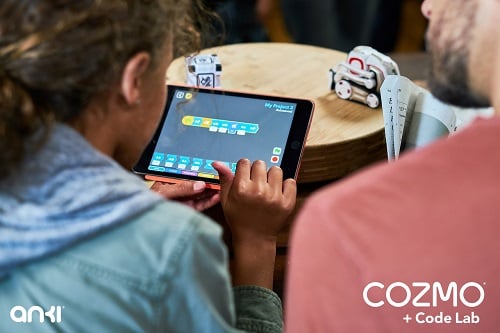 Kids can control movement, actions and personality of robots through coding. Image credit: Anki
As technology continues to influence everything in our daily lives, the need for future programmers, engineers, scientists and educators will only continue to increase. As a result, the need to learn to code has become an important aspect of teaching kids the importance of science, technology, engineering, art and math (STEAM) skills.
Anki has introduced a new lab coding technology that is designed to do just that. Cozmo Code lab features a simple and intuitive visual programming language that allows kids the ability to learn robotics technology to program physical robots. The drag-and-drop of blocks into a sequence in Code Lab triggers related actions in the physical world.
Code Lab is based on Scratch Blocks, a project from the MIT Media Lab and Google, which allows kids to begin with simple programs but then has the ability to code extremely sophisticated projects such as creating new games for the robots.
"With the launch of Code Lab, Cozmo now helps kids develop the logic and reasoning skills that programming requires," said Boris Sofman, CEO and co-founder at Anki. "We now have a powerful tool that gives anyone interested in learning to code a robot the opportunity to unleash their creativity."
The coding blocks challenge kids to find a solution to prescribed prompts by moving the blocks into the right sequence. It also allows them to experiment with Cozmo to create whatever content they can think up, Anki says.
The blocks are represented as either action, movement or animation. Movement allows the robot to go forward, backward, turn and avoid obstacles. Actions control the body from lifting its head to changing lights or saying short phrases. Animations trigger personality in the robot through specific movements.