A recent survey from Smart Home vendor August Home shows that advances in Smart Home technology is playing a role in where travelers decide to stay during business trips and vacations, specifically in the Airbnb-type short-term rental market.
In the survey, short-term rentals are viewed as a superior experience to hotels, and innovations in the Smart Home is one of the reasons why. Of those surveyed, 60% of respondents say they would pay more for a short-term rental with a Smart Home feature, such as smart locks, doorbell cameras, Smart TVs, streaming media and Smart Home security systems. Travelers also indicate they believe Smart Home features will be a big part of rentals in the future.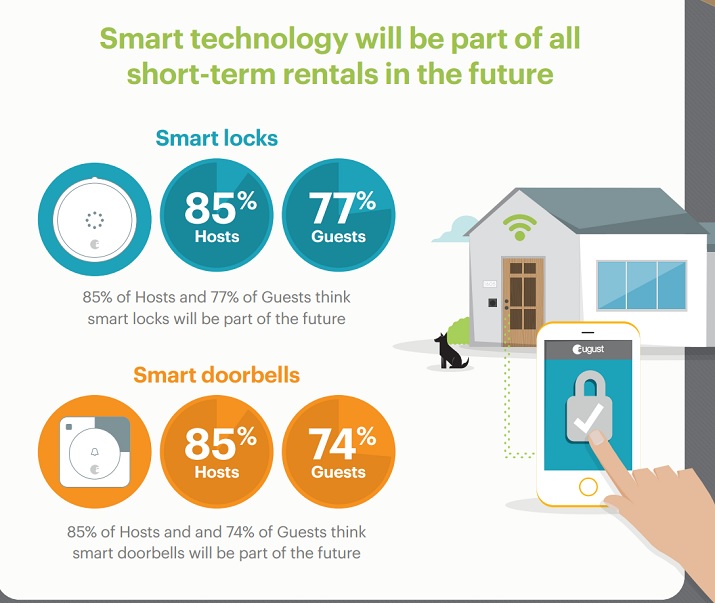 Most of the travelers and hosts surveyed say that Smart Home technology will come to short-term rental properties in the very near future. Source: August Home One of the key concerns in the survey is the loss of property keys. Both hosts and guests expressed concern over losing property keys, something that a smart lock would help with. Of the hosts surveyed, 45% say their rental property is more secure with smart locks, and it makes for an easier time when it comes to checking out of the property—no keys to return.
Short-term rentals are primarily used by those that vacation, 75% of those surveyed say, but it is on the rise for business travelers, with 23% saying they use short-term rentals over hotels. Those guests surveyed say they believe short-term rentals are better because the hosts try harder to make the experience better versus the staff in a hotel.
While having one Smart Home feature is appealing to the guests surveyed, with 90% saying they would desire features, a Smart TV, specifically, is the most desired feature, with 93% saying they would want one in their rental. Those surveyed also expressed interest in Smart Home security systems at 91%. Among those surveyed, 87% say they would want a video-enabled doorbell camera, 86% want smart locks and 86% want streaming media.
To contact the author of this article, email engineering360editors@ihs.com