Vivint Smart Home is partnering with Google to make every new Vivint connected device compatible with Google's Home Assistant.
Vivint said it is the first company to give voice control to every new customer by including two Google Home Mini devices with every smart home system. Vivint is also adding Nest Thermostat E, also owned by Google, and Google Wi-Fi as options in its home suite.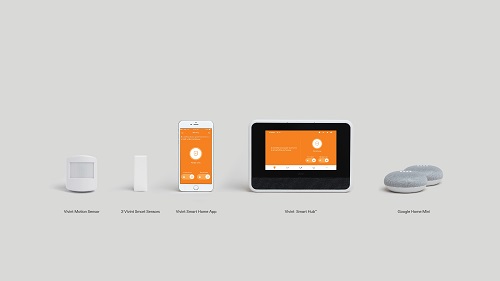 Vivint will offer the Nest Thermostat and Google WiFi for the first time in its bundles. Source: Vivint Smart HomeSmart home devices from Vivint with Google Assistant allows homeowners to control lighting, locks, thermostats, garage doors and security features. The inclusion of a suite of smart home products already ported to a smart speaker might be an easier way for homeowners to use connected devices with a voice assistant, as according to a new IHS Markit report virtually no one is using smart speakers to control other devices in the home.
"Voice control is the easiest and most intuitive way to communicate with your smart home, and we want to provide this experience to more customers," said Jeff Lyman, chief product officer at Vivint Smart Home. "The power of the Google Assistant to hear and interpret voice commands significantly adds to the convenience of the smart home experience, whether you're locking doors, adjusting lighting or changing the temperature."
Vivint is for the first time offering the Nest Thermostat as part of its smart home bundles, as well as Google Wi-Fi to enhance connectivity for customers with doorbell, indoor and outdoor cameras for security systems. Google Wi-Fi allows for homeowners to set up multiple access points throughout the home by creating a mesh network for a strong, secure signal.