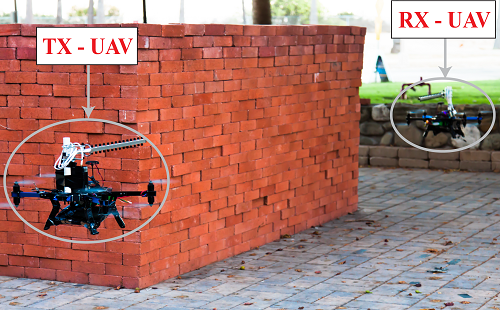 Drones work together to 3-D map objects inside a building through walls. Source: UCSBDrones are being used for numerous important tasks such as fighting forest fires, discovering new plants in Hawaii, nuclear accident monitoring, help to possibly explore mars, inventory management in factories, deliver lab samples to hospitals and much more.
Now, researchers at University of California, Santa Barbara have shown a way for drones to detect objects through walls using an ordinary wireless signal. The method involves two drones working in tandem and could eventually be used for emergency search-and-rescue, archaeological discovery and structural monitoring.
In the project, two autonomous octocopters take off and fly outside an enclosed, four-sided brick house whose interior is unknown to the drones. One drone transmits a WiFi signal while in flight and the received power of which is measured by the other copter for the purpose of 3-D imaging. After a few routes, the drones use the imaging methodology to reveal the area behind the walls and generate 3-D high-resolution images of the objects inside. The project showed the images closely match what was actually inside the building.
"Our proposed approach has enabled unmanned aerial vehicles to image details through walls in 3D with only WiFi signals," says Yasamin Mostofi, a professor of electrical and computer engineering at UCSB. "This approach utilizes only WiFi RSSI measurements, does not require any prior measurements in the area of interest and does not need objects to move to be imaged."
How It Works
The UCSB researchers used four components to enable 3-D through-wall imaging.
First, the proposed robotic paths can capture spatial variations in all the three dimensions as much as possible. Secondly, the researchers modeled the 3-D unknown area of interest utilizing a graph-based belief propagation approach to update the imaging decision of each voxel. Third, the team used a linear wave model to approximate the interaction of the transmitted wave with the area of interest. Finally, researchers took advantage of the compressibility of the information content to image the area with a very small number of WiFi measurements of less than 4%.
The full research report can be found in the journal Association for Computing Machinery.