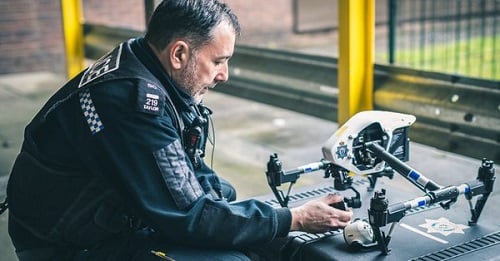 A search and rescue team readies a drone for operation. Source: DJILeading drone maker DJI has a vested interest in how drones are perceived in the market. The more that drones are seen as a tool that can save lives or enhance how military, police or rescue personnel can better serve the populace, the more they are willing to buy and support drones.
As a result, DJI has been paying particular attention to reports from first responders about how or when drones help in saving lives, keeping a running tally of the number of rescues that have been made where humans have been saved.
With much news about drones involved with the devices encroaching on restricted air space or being used by rogue military organizations to drop bombs or attack forces, DJI probably sees these positive news reports as a retort of sorts to the bad side of drone technology.
The latest news from DJI involves the last day in May of this year where drones saved four people in a single day from peril in three separate incidents.
The first incident took place in the U.K. where a drone with a thermal imaging camera found a semiconscious man at the edge of a steep cliff. In Indiana, a fire department drone dropped a life vest to a criminal that was fleeing from a crime and struggling to stay afloat. Finally in Hill County, Texas, a drone dropped a life vest to a mother and her 15-year-old daughter who were stranded in a rising river and didn't know how to swim.
DJI said this marks the first time that three drone rescues occurred in a single day. The total number of people saved by drones now stands at least at 133.
Drones can cover far more area than searchers can on land or water and can use thermal imaging to peer through smoke, fog, darkness or vegetation to find unconscious people. Public safety agencies have been adopting drones in order to reduce the risk of injuries to rescuers who might otherwise put themselves in peril on search and rescue missions, DJI said.
Just a few months ago, DJI released a report that 65 people had been saved by drones for the entire year of 2017. At that time, DJI had counted 124 people in total had been saved by drones.