Unyte is an interactive relaxation technology that uses breathing techniques, immersive experiences and real-time feedback to help people who are new to or struggle to achieve full meditation. Unyte offers real-time feedback to help you gain awareness of your thoughts, emotions and physical state during meditation.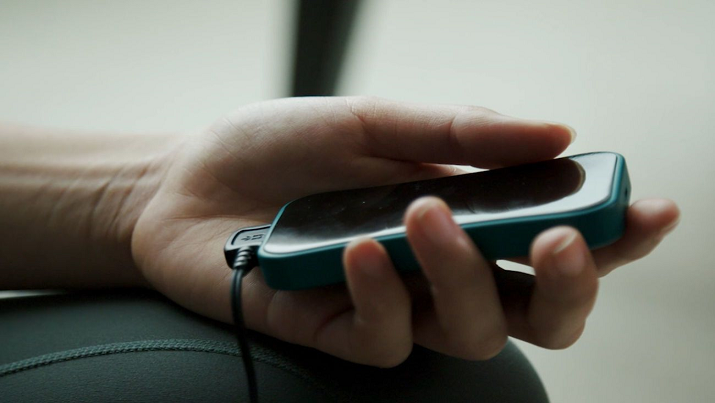 The iom2 device that attaches to your ear and gathers biofeedback technology (Unyte)
According to Unyte, with regular practice and this new technology, you can reach a calmer and more focused mind and body. Unyte may help reduce risk and help to live with certain health conditions like stress.
Unyte uses biofeedback technology and immersive digital and VR experiences to make meditation easy to learn and fun to practice. Unyte is based on technology acquired from Wild Devine.
Using Unyte takes only a few steps. First, connect the iom2 biofeedback sensor to the ear. This sensor monitors Heart Rate Variability and then sends its findings to your phone, computer or tablet in real-time. Second, select an interactive experience on your smartphone, tablet or computer and you're ready to meditate. Follow the guide and the breathing indicator within the interactive experience and watch your body's feedback increase your resonance score as the game teaches you how to meditate more effectively.
There is an option for a more immersive experience for those who own VR headsets. Using the VR headset, you can meditate inside the game projection in the VR headset.
Unyte teamed up with Assembly, an electrical engineering firm, to design the iom2 biofeedback platform. The iom2 connects to the body via ear clip attached to the ear lobe. This captures real-time data during meditation. It keeps the information from each meditation session to ensure that it is providing you with the best immersive experience.
The iom2 uses Heart Rate Variability (HRV). HRV is a strong indicator of meditative state. Higher HRV correlates with an optimal, relaxed nervous system, positive emotions and improved health. Unyte aims to raise HRV using specific breathing, mindfulness and relaxation techniques. Unyte provides instantaneous awareness of nervous system state and allows you to influence HRV. HRV Biofeedback benefits include: improved sleep quality, reduced pain , improved ability to handle stress, less anxiety, greater wellbeing, fine-tuned skills, reduced depression and more.
The iom2 device has Bluetooth and USB connectivity, measures HRV, measures Galvanic Skin Response (GSR), has long rechargeable battery life, ear sensor for HRV capture, extensible sensor support, third party SDK and data export capabilities. The Unyte iom2 device is 3.74"x 1.97". It has a Li-ion Battery 1200mAh, m09" OLED screen, lit power button, analog and digital sensors and weights 2.1 oz.
The Unyte is currently on Kickstarter with 25 days left and $122,943 pledged of its $30,000 goal with 25 days to go. It has rewards levels from $1 to $5,999. To learn more about this device, visit the Kickstarter page.