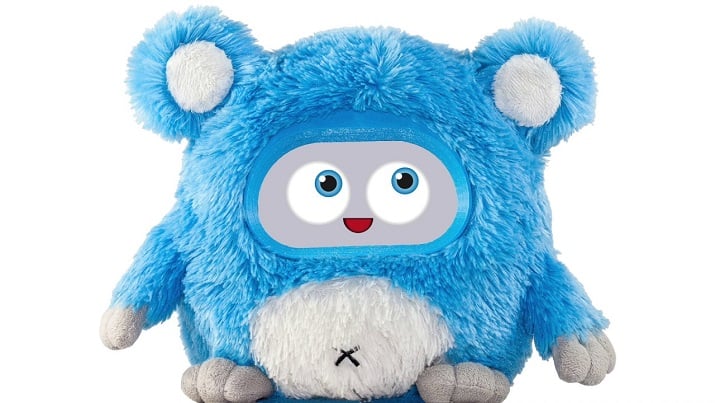 Woobo is an interactive AI robot for kids. Source: Woobo Inc.A Boston-based company founded by alumni from MIT, Carnegie Mellon and Harvard has produced an interactive AI robot for child companionship. Both the company and the fluffy robot are called Woobo.
Developed through virtual interviews with families, hundreds of kid-testing hours, and a year's worth of in-home testing sessions, Woobo is designed as an education and entertainment platform. It talks; it answers questions; it tells stories, plays games and sings songs. It even expresses emotions.
"Children love exploring and having fun with a curious educational playmate," said Feng Tan, company founder and CEO. "Parents want an interactive companion that gives their kids a taste of learning." Tan refers to the robot as "a learning launch pad and a talking puppy rolled into one."
Woobo launched on Kickstarter today, Sept. 21, 2017, and reached its funding goal of $50,000 within hours. At press time, early-bird contributors could reserve a Woobo for steep discounts on its planned retail price ($199). Delivery is planned for the 2017 holiday season.
The bot, which comes in three different colors, is 23 inches tall and weighs about 1.5 pounds. Numerous sensors fuel its interactive capabilities—to get it to listen to you, for instance, you click its ear. Its battery will last for up to 48 hours of use, and its WiFi connection enables it to always be "learning and expanding its knowledge about the world," according to the company website. Put in less anthropomorphic terms, the device is connected to an online content library that the company intends to continually expand.
The Woobo package also includes a parental control app for iOS and Android, which can be used to remind kids about day-to-day activities, or leave voice messages for Woobo to deliver throughout the day.
"We promise you this," said Tan. "Woobo is the smartest, most engaging imaginary playmate your child will ever have."