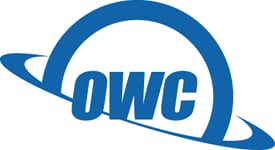 (Source: OWC)Father's Day is coming up on June 18, and it's time to find the perfect Father's Day gift for your dad. If you are gift searching for a technology savvy dad, look no further! The following are the latest and greatest technology gifts from OWC/NewerTech that are perfect for a technology obsessed dad.
OWC Envoy Pro mini- Fast 120 GB SSD Thumb Drive
The Envoy Pro is light, strong, portable and fast. It can fit right in your dad's pocket when he is on the go. It is a full-sized desktop-class solid state drive (SSD) performance storage buddy with a 3.0 interface. It also comes with a 3-year OWC Solution Limited Warranty, lanyard and USB extension cable.
Price: $119.99
Buy it at the OWC site here.
OWC Mercury Elite Pro mini- Portable Storage and Backup:
This portable storage drive is perfect for the dad that likes to document everything he does, from pictures and video to writing about his day. This storage system allows your dad to keep his files safe so he can keep snapping photos without worrying about losing his files. The Mercury Elite Pro mini works with Mac and PC computers, and features USB 3.0 and 2.0 high-performance eSATA Plug and Play data storage and backup reliability. You can choose between a serial advanced technology attachment (SATA) hard drive or a SSD. The storage is available from 60 gigabytes to 5 terabytes. The Mercury Elite Pro mini has up to 600 megabytes per second transfer speeds with demanding data storage and backup. The 5-by-3 inch brushed aluminum enclosure is impact resistant, heat dissipating and has a super-quiet operation.
Price: $64.00
Buy it on the OWC site here.
NewerTech NuGuard KX iPhone Case for iPhone 7 and iPhone 7 Plus
iPhones are popular with tech dads, and they're great, but it is entirely too easy to drop and break an iPhone. That's where the NuGuard KX phone case comes in. This case has been through military drop tests for all kinds of phones, from the iPhone 7 and all its expansions to the Samsung Galaxy. This is perfect for the dad that works in rugged conditions or is even just a little clumsy with his phone. The NuGuard KX is available in black, red and blue with unique design options. If your Dad doesn't have an iPhone 7 don't worry. This case is also available for the iPhone 6/6S/6SPlus, iPhone SE/5/5S/4/4S, iPhone 5C, iPad mini, iPad Air, and Samsung Galaxy S4.
Price: $29.75-$34.75
Buy it on the OWC site here.
NewerTech 14-Piece Portable Toolkit
If your dad loves to open up and fix computers and laptops, then this is the kit for him. This toolkit features a zippered, woven nylon case, perfect to take on the go. This kit has everything your dad might need to open computers, laptops, smartphones, tablets and other electronics. This toolkit has 14 tools, including non-marring nylon pry tool "spudgers," black nylon probes, Phillips and other screwdrivers, tweezers, scissors and more.
Price: $14.99
Buy it on the OWC site here.