After more than a year of speculation, Apple Inc. has finally unveiled its new iPhone 12 models all with 5G capabilities.
The new models, which include the iPhone 12, iPhone 12 Pro, iPhone 12 Max and iPhone Mini with 5G, offer improved speeds for faster downloads and uploads, faster streaming, low latency for mobile gaming, real-time interactivity in apps, FaceTime in high definition and more. Reportedly, 5G technology boasts 10 times the download speeds, higher bandwidth and lower latency of legacy 4G wireless technology.
Apple said that the iPhone models in the U.S. will support millimeter wave (mmWave), allowing smartphones to reach up to 4 Gbps and a smart data mode designed to extend the battery life intelligently by assessing 5G needs and balancing data usage, speed and power in real time. Apple will begin pre-orders for the standard iPhone and iPhone 12 Pro later this week with availability expected the following week. Meanwhile, iPhone 12 Max and iPhone 12 Mini pre-orders will begin in early November with availability expected later that month.
Last year, an analyst from TF International Securities said two 5G iPhones would be released using Qualcomm's 5G modems after the company settled its lawsuit with Qualcomm and signed a new deal with the chipmaker to drop all legal issues between the companies. Prior to the settlement, Apple was going to use Intel for its 5G modems, which may have pushed the release of a 5G iPhone to 2021.
However, after signing a new deal with Qualcomm, Intel put its 5G smartphone modem business up for sale with plans to exit the 5G smartphone modem business entirely and focus on its core business strategies such as data centers, artificial intelligence (AI), internet of things (IoT), self-driving cars and computing.
With Apple wanting to control its own destiny in the future and avoid any complications over royalties or licensing again, Apple acquired Intel's 5G smartphone modem business valued at about $1 billion. Apple said the acquisition would help expedite the development of future 5G products and allow Apple to differentiate from other smartphone vendors moving forward.
So, it is likely that the iPhone 12 series will be the last iPhone to use the Qualcomm's 5G modem technology and future versions will include Apple's homegrown modem technology that it garnered via the Intel acquisition. Additionally, Apple owning its own modem technology for development of future devices will allow it to strike better deals with other major 5G patent holders, negotiating better terms with current suppliers as well as other integral parts of the 5G modem.
The move to announce 5G iPhones is intended to alleviate confusion among current iPhone users as a recent survey found that iPhone users already believe they have a 5G smartphone, despite one not being introduced yet.
iPhone 12 details
The Apple iPhone 5G includes the Apple A14 Bionic CPU and GPU that is manufactured on a 5 nm process. Apple claims the A14 processor is up to 50% faster than competing smartphone chips for what it calls console-quality gaming, computational photography and it features a 16-core neural engine for an increase in performance of 80% capable of completing 11 trillion operations per second.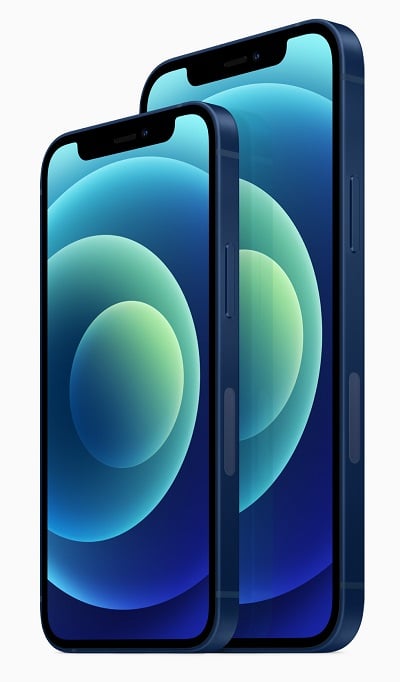 The standard iPhone 12 and iPhone 12 Mini will also include 5G technology but with fewer bells and whistles than the Pro and Max versions. Source: AppleThe Apple ProRAW enables the first end-to-end Dolby Vision video experience with up to 60fps with an ultra-wide camera, a telephoto camera with even longer focal length and wide cameras to capture images and video in bright and low-light environments.
The iPhone 12 5G Pro includes a lidar scanner for augmented reality (AR) and MagSafe for wireless charging. The lidar scanner is designed to improve AR experiences and improve autofocus by six times in low-light scenes for more accuracy and reduced capture time in photos and video. This technology allows night mode portraits, Apple said.
"This is a huge leap for iPhone, bringing the best 5G experience in the market and delivering our most advanced technologies to users who want the absolute most from their iPhone," said Greg Joswiak, Apple's senior vice president of worldwide marketing. "Each generation of iPhone has changed what we expect from a smartphone, and now with 5G, iPhone 12 Pro provides a new generation of performance."
The iPhone 5G series includes organic light emitting diode (OLED) displays for HDR video. The iPhone 12 Pro features a 6.1 in display, the iPhone 12 Pro Max features a 6.7 in display, the standard iPhone 12 contains a 6.1 in display and the iPhone 12 Mini includes a 5.4 in display.
The iPhone 12 Pro and Max feature an IP68 rating to withstand water submersion up to 6 m for up to 30 minutes and protects against spills.