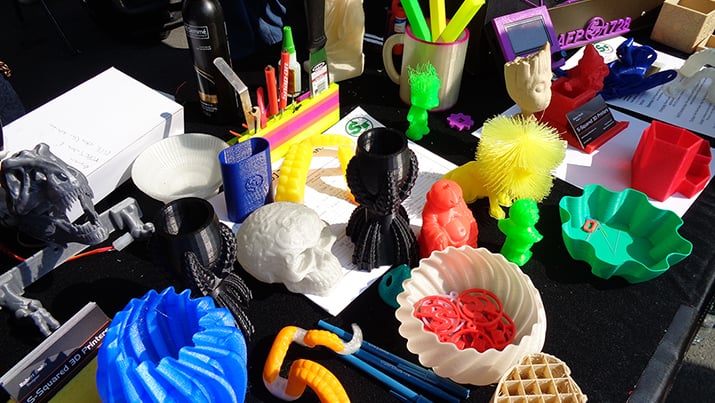 Samples created by 3D printers on display at the Mini Maker Faire. Source: Tony Pallone/IEEE GlobalSpec
"Part science fair, part county fair, and part something entirely new." That's an apt slogan for Maker Faire, the ongoing gatherings of tech enthusiasts, tinkerers, engineers, science clubs and others that comprise the Maker movement. According to Maker Media, which launched the first event in the San Francisco Bay area in 2006, over 190 independently-produced "Mini Maker Faires" plus over 30 larger-scale events will have taken place by the end of 2017.
While one of the largest just wrapped up in New York City, a smaller-scale event held on Sept. 16 in New York's Capital Region was well-placed alongside an annual festival of steampunk—the sci-fi subgenre that uses Victorian-era sensibilities and steam-powered machinery to artistically reimagine modern technology.
At the entrance to the Enchanted City Steampunk Faire was a working historic steam engine, with an authentically-dressed engineer periodically sounding a loud steam whistle to get the attention of passers-by on the streets of Troy, New York—itself an industrial town that has recently been revitalized by a spirit of artistic entrepreneurship.
The atmosphere inside the festival was informal and lighthearted. "Would you like to launch a rocket, or shoot some marshmallows at your dad?" one exhibitor offered to a small group of girls who approached his booth. Nearby, a four-wheeled robot played the role of a mechanical dog, repeatedly retrieving and tossing back a ball thrown to it by a boy. In another area, a group of small caterpillar-track bots demonstrated their ability to pick up plastic cups strewn about their corral.
Fitting the spirit of the event, everything on display looked like it had been hand-crafted by dedicated hobbyists. That was also true of the 3D printers demonstrated by a team of two men from Long Island, who had begun new careers as makers for a business they called S-Squared. One event attendee didn't realize, at first, that the men had actually built the printers themselves. "We manufacture these machines," said one, who had a background as an auto mechanic. "We're basically mentally unstable," added his partner, an engineer.
The Enchanted City event was the fourth of its kind for Troy. Mini Maker Faire producer Susan Dunckel says that she's aiming for Saturday, Sept. 15, 2018, for next year's event—and that she hopes to double the size. Stay tuned.