IBM and ABB have established a strategic partnership that combines ABB's Ability capability with IBM Watson's Internet of Things cognitive computing platform to provide solutions for customers in utilities, industry, transport and infrastructure. Their initial collaboration will supply insights for the factory floor and smart grids.
"This powerful combination marks truly the next level of industrial technology, moving beyond current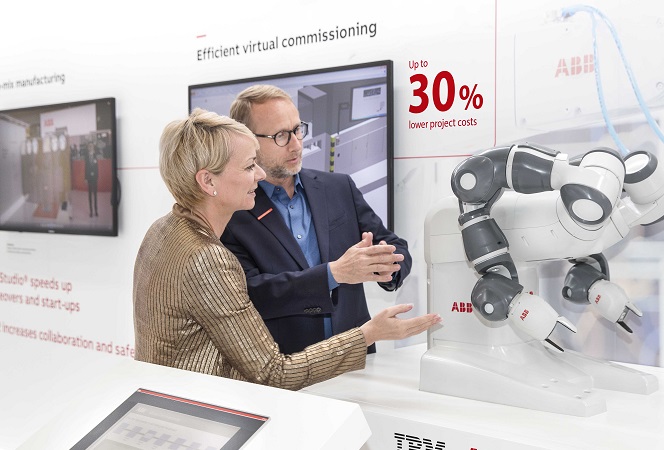 Pictured, Harriet Green, General Manager Watson IoT, Customer Engagement and Education, IBM; and Guido Jouret, Chief Digital Officer, ABB, discuss the future of cognitive and industrial machines. Credit: IBMconnected systems that simply gather data, to industrial operations and machines that use data to sense, analyze, optimize and take actions that drive greater uptime, speed and yield for industrial customers," said ABB CEO Ulrich Spiesshofer.
The companies envision improving industrial processes by using information collected by systems already in place and using this information to drive process improvements. Watson's cognitive abilities and artificial intelligence combined with system data should yield myriad insights.
One example offered by the two companies involves product inspection and quality control. Watson would examine real-time images of products on an assembly line using Watson's Internet of Things for Manufacturing capability. This shift from human inspection will be faster and more accurate, quickly alerting production staff to errors humans would miss and allowing manufacturers to speed up production lines.
Electric utilities can merge Watson's store of historical weather data with the utilities' patterns of demand to optimize smart grid operation. Predicting demand based on forecasts and previous demand data should increase utilities' ability to manage loads and set prices.
IBM and ABB announced their collaboration at the 2017 Hanover Messe trade fair.