Back in 2011, IBM Watson, a technology platform that uses natural language processing and machine learning to reveal insights from large amounts of unstructured data, competed on Jeopardy against human contestants. Since then, the system has allowed IBM to develop technology that moves beyond programmable systems to ones that can actually understand, reason, and learn, in order to create 'thinking' machines.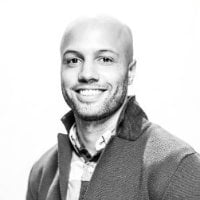 Jonas Nwuke
Jonas Nwuke's father was a software developer and DIY hardware enthusiast. As a result, Nwuke grew up around computers. Nwuke tells Electronics 360 about his journey to his current position as Manager of IBM Watson's Ecosystem Growth and Design division, and describes some important facets of IBM's Watson platform, as well as its future – launching new products and connecting businesses.
Nicolette Emmino: Tell us about yourself, Mr. Nwuke.
Jonas Nwuke: I am a technology professional with nearly a decade of experience working on enterprise Big Data technologies. I began my career at Accenture where I focused on Business Intelligence and Big Data as a consultant. After 5 years there I pursued an MBA at the University of Chicago, which led to my initial role at IBM, where I worked in internal strategy. I joined Watson when the business unit was launched in 2014, first working directly with partners leveraging the APIs and now leading teams that work with a breadth of partners. My interest in technology started at an early age. My father is a software developer (and a DIY hardware enthusiast) and so I grew up around computers.
Nicolette Emmino: What is your role at IBM and involvement with Watson?
Jonas Nwuke: As a manager responsible for Watson Ecosystem Growth and Design, I work with Ecosystem partners who are using Watson and applying it to real world problems. My team helps companies create viable cognitive-based apps and businesses, and bring them to the marketplace. The Watson Ecosystem consists of a wide network of more than 500 partners who are embedding Watson's open APIs to bring more cognitive solutions to the market, and my team establishes the relationships through which we aim to foster collaboration between humans and machines that will transform industries and economies.
Nicolette Emmino: How large is the team of IBM professionals that works with Watson technology?
Jonas Nwuke: We have a team of over 2,000 employees worldwide working on developing core Watson technologies. We've opened up our Watson APIs via the Watson Developer Cloud, which has over 77,000 developers globally using this platform to pilot, test and deploy new business applications. The Ecosystem is represented by more than 500 commercial partners - a mix of entrepreneurs, new, and established businesses - who have developed a product or solution embedded with Watson. From those 500 partners, over one hundred apps are already in market.
Nicolette Emmino: For anyone unfamiliar with Watson, can you give us some background on the platform?
Jonas Nwuke: Watson is the first commercially available cognitive computing system that is a new form of computing - representing a seismic shift in technology. We've moved beyond systems that are programmed - the technologies most of us use today - to systems that understand, reason and learn - 'thinking' machines that we partner with, like Watson. Watson analyzes high volumes of data and processes information more like a human than a computer—by understanding natural language, generating hypotheses based on evidence, and learning as it goes. Watson gains in value and knowledge over time, and from interactions with its environment.

Watson delivers answers, alternatives and evidence-based recommendations with confidence. In addition to answers, it offers alternatives and reasoning for why it made the decisions it recommends to user; and Watson retains those conversations providing a much more intuitive, personalized experience.
Nicolette Emmino: What are some of Watson's "coolest" features?

Jonas Nwuke: In term of "coolest" features, I think the work we've done to open Watson up as a development platform is particularly exciting, because it allows organizations to build with and customize the technology to create entirely new applications, suited for whatever industry or use case they focus on. Originally starting as one natural language Q&A API, the Watson development platform now offers over 30 APIs based on over 50 underlying technologies to provide capabilities that span language, speech, and vision and data insights.
Nicolette Emmino: During the holiday season, Watson made two sets of predictions: Top Black Friday and CyberMonday Products and Trends. How did Watson go about making those predictions?
Jonas Nwuke: The cognitive-powered predictions came from the IBM Watson Trend app, a new app designed to help consumers understand not just what products are trending, but why. The app uses Watson's understanding of natural language to distill the sentiment of tens of millions of online conversations by scouring 10,000 sources across social media sites, blogs, forums, comments, ratings and reviews. From there, the app uncovers consumer preferences to pinpoint patterns and trends to reveal why people are choosing certain products or brands and forecasts if a particular trend is a fleeting fad or will continue to remain strong.
Nicolette Emmino: In addition to hospitals implementing Watson's AI system in parts of the world where doctors are scarce, what other ways is Watson assisting in the medical field today?
Jonas Nwuke: Watson has a strong foundation in healthcare – an industry that has been an early proponent of the transformative qualities of cognitive computing. Watson's cognitive capabilities are helping transform how healthcare is practiced and taught, with solutions designed to enhance the quality and speed of care delivered to patients through individualized, evidence-based medicine. In fact, IBM established Watson Health as its own business unit in early 2015 to improve the ability of doctors, researchers and insurers and other related health organizations to surface new insights from data and deliver personalized healthcare.

The three top-ranked hospitals in cancer care are working with Watson: Memorial Sloan Kettering Cancer Center, University of Texas MD Anderson Cancer Center and the Mayo Clinic to improve and personalize medical research and patient care. Watson is also being applied to genomics to advance cancer care by accelerating DNA analysis for personalized treatment options. Over 14 cancer institutes, including UNC Lineberger Cancer Center, are collaborating on this initiative. The business has also entered into a landmark partnership with CVS Health to give CVS pharmacists, nurse practitioners and other health providers the ability to proactively treat the whole patient, when and where they need; and announced a $1 billion acquisition of Merge Healthcare to apply Watson's ability to "see" to medical imaging.
Nicolette Emmino: Are there applications for Watson that have not yet come to fruition? What are these?
Jonas Nwuke: The Watson Ecosystem has already developed cognitive-based apps and businesses across 28 industries and disciplines such as healthcare, finance, education, sports, law, and oil and gas, but we think Watson's cognitive capabilities have the ability to bring even more intelligent solutions to market. We think the opportunities for Watson are endless and there are plenty of applications waiting to be discovered. We're looking forward to seeing what our partners come up with.
Nicolette Emmino: What's next for Watson AI
Jonas Nwuke: Moving forward, Watson will continue to be the platform for the era of cognitive business.

IBM and its research teams will continue to advance Watson's capabilities. IBM is teaching Watson additional languages, including Brazilian Portuguese, Spanish, Japanese through a partnership with SoftBank, and Arabic through a joint venture with Mubadala, the Abu Dhabi-based investment and development company. As part of our work with SoftBank and Mubadala, we'll bring Watson to Japan, and the Middle East and North Africa (MENA) region, respectively - working to build out an ecosystem of partners.

IBM has also opened a second Watson headquarters in San Francisco, expanding on its 60+ year presence on the West Coast, in order to continue to foster partnerships with start-ups, developers, universities and VCs to create and launch new products and businesses powered by Watson. IBM continues to increase Watson's cognitive capabilities in the areas of language, speech, vision, discovery and data insights.
Nicolette Emmino: In your opinion, how is the Watson AI changing the world as we know it?
Jonas Nwuke: Watson enables a more intelligent interaction between human and machines - helping to expand our knowledge base and enable us to be more efficient and productive. Today's businesses pay a price for lack of knowledge: not knowing what's wrong with a patient; not knowing which part of the population wants to buy a product; and so on. Watson allows businesses to bring insights and 'intelligence' to digital business. IBM has demonstrated how Watson can help scale knowledge and expertise through our work with leading hospitals and medical institutions. Through the Watson Ecosystem, we're seeing how Watson technology can offer better insights to professionals like lawyers, veterinarians and teachers, and we're expecting that partner network to become even larger with time. We've laid the groundwork with a platform that can reason and learn with experience and creates the foundation for augmenting and enhancing decision making.