IBM Watson – you've heard all about the cognitive system technology platform that combines machine learning, natural language processing akin to a human's, and statistical analysis by now.
But aside from the plethora of applications Watson has found itself in, including support systems, data insights, medical, and recently automotive connectivity, the platform is making its way into the Maker Movement.
In order to rouse maker community and student enthusiasm, IBM launched TJ Bot, a cardboard-constructed, open-source robot that allows users to access Watson services in a fun way.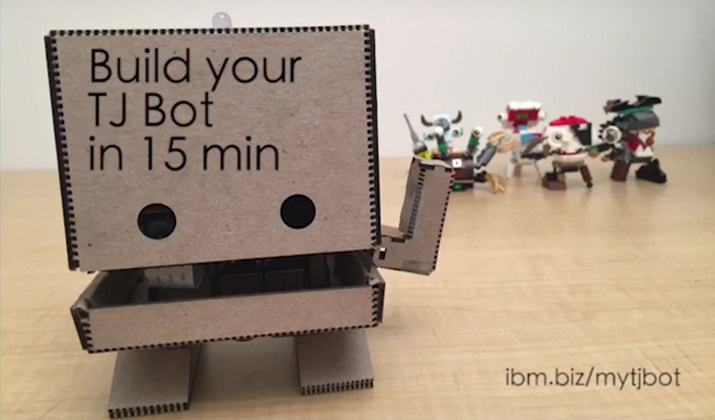 (Image Credit: IBM)
TJ Bot is the first kit in the IBM Watson Maker Kit collection, created at IBM Research as an experiment to find the best practices in the design and implementation of cognitive objects. The bot was named after the first Chairman and CEO of IBM, Thomas J. Watson.
Using the online demos and instructions, makers can either 3-D print or laser-cut their own TJ Bot and then follow the step-by-step instructions to connect it to Watson services. The guidelines were designed based on a Raspberry Pi and are available on Instructables.com and GitHub.
So far, the IBM Research team has managed to get TJ Bot to respond to emotions via a RGB LED on its head, accept voice control commands, and engage in conversational chats.
"Whether you spend your days coding the next "big idea", or simply playing with code for your school project, we invite you and the global community of makers to meet TJ Bot and join us in building the future of AI. We look forward to seeing the videos, blogs, recipes and photos published by the Maker community to see what, and how, you create your own cognitive objects," wrote Maryam Ashoori, on the IBM Research Blog.
So not only will we continue to see Watson expand capabilities in the Internet of Things, or read information, speak a variety of languages and perform image diagnostics, but the cognitive software will now find its way into the hearts of Makers everywhere.
For more information, visit IBM Watson Maker Kits.