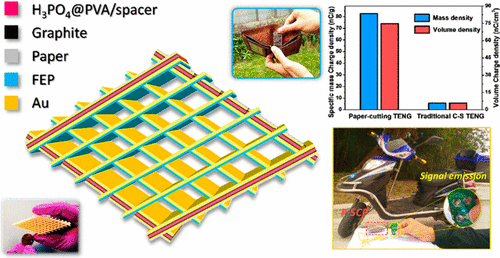 The development of lightweight, superportable and sustainable power sources has become an urgent need for most modern personal electronics. Image credit: ACS Nano
Researchers Zhong Lin Wang and Chenguo Hu wanted to come up with a new, wireless way for portable electronic devices to charge. Currently, the only way to get a full charge on a hearing aid, heart monitor, etc. is to plug them into the wall. But Wang and Hu thought, what if they could take the energy that a person expels every day and put that energy back into the device.
The research team has put created triboelectric nano generators (TENGs) that harness mechanical energy that is all around us, created by little actions like walking, and put it back into portable electronics. But the design had challenges. The TENG devices take hours to charge even the smallest electronics like a sensor. They are also made out of acrylic and heavy.
Researchers wanted to find a solution for this problem. They changed it to a rhombic, paper-cut design that is only a few inches long and very light. They covered it with different materials and turned it into a power unit. The four outer sides are made of gold and graphite coated sand paper, and the inner surfaces are made out of paper that is coated in gold and fluorinated ethylene propylene film. After releasing and pressing the device for a few minutes, the device was charged to a 1 volt, or enough power to fully charge a remote.
This research was published in the American Chemical Society journal.