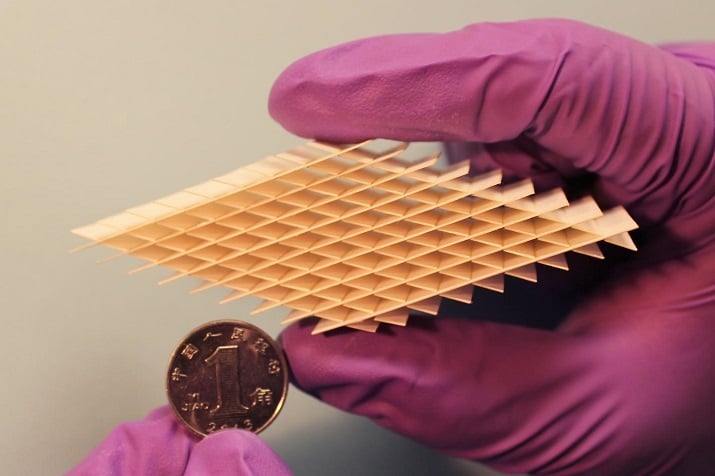 Jianzhi-inspired paper-based device can harvest and store energy from body movements. Source: American Chemical Society As we churn out more efficient, more functional portable electronic devices capable of accomplishing more tasks, one thing remains — the need to recharge them in a wall socket.
Researchers from Beijing Institute of Nanoenergy and Nanosystems and the Chinese Academy of Sciences may have developed an easier way. The team has created a paper-based device that can harvest and store energy from body movements. The device was designed with inspiration from the traditional Chinese and Japanese art of paper-cutting, or Jianzhi.
While smartphones, tablets and other portable devices require a good deal of energy, other portable devices such as watches, hearing aids and heart monitors only require small amounts of energy. This energy is usually in the form of rechargeable batteries. Researchers instead looked at ways to recharge these devices through a technology called triboelectric nanogenerators (TENGs) that harnesses the energy through actions such as walking or other body movement.
The problem with TENG devices is that they take several hours to charge small electronics and are typically heavy.
How They Did It
Garnering inspiration from Jianzhi, they created an ultra-light, rhombic paper-cut design only a few inches long and coated it with different materials to turn it into a power unit.
The four outer sides of the device were made with gold- and graphite-coated sand paper serving as the device's energy-storing supercapacitor element. The inner surfaces, made of paper and coated in gold and a fluorinated ethylene propylene film, comprised the TENG energy harvester.
This process resulted in a 1 volt charge after pressing and releasing the device for just a few minutes, which would amount to enough power to recharge a remote control, temperature sensor or a watch.