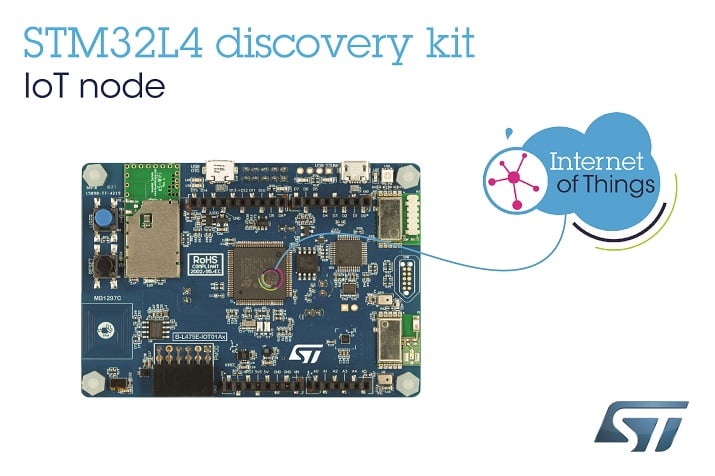 The STM32L4 IoT discovery kit. Image credit: STMicroelectronics
STMicroelectronics has introduced an Internet of Things (IoT) discovery kit that supports multiple low-power wireless standards and integrates a complete collection of motion, gesture and environmental sensors.
The STM32L4 IoT discovery kit is designed to connect devices to cloud services with modules for Bluetooth low energy (BLE), sub-GHz RF and WiFi as well as an NFC-tag IC and a printed antenna, ultra-low-power STM32L4 microcontroller on the same board.
The microelectromechanical systems (MEMS) on the board include an accelerometer and gyroscope IC and magnetometer for 9-axis motion sensing, a barometric pressure sensor, temperature/humidity sensor, two omnidirectional digital microphones and a FlightSense proximity and gesture sensor.
The kit includes ST's expansion software to connect to the Amazon Web Services (AWS) IoT platform, access tools and services in the cloud such as device monitoring and control, data analysis and machine learning. Cloud provider support will be added in the future, ST says.
The heart of the IoT board includes an 80MHz STM32L475 32-bit microcontroller that combines an ARM Cortex M4 core featuring DSP extensions, 1MB on-chip flash and ultra-lower-power technologies. The STM32L4 kit is available now priced at $53.00.