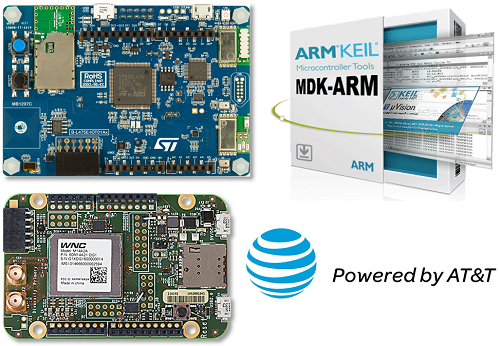 The IoT starter kit. Source: AvnetAvnet Inc. has introduced an addition to its internet of things (IoT) starter kit portfolio with a new LTE-M iteration that reduces the complexity of device development.
The kit, which was developed in collaboration with AT&T, brings together all the elements needed to develop and prototype secure, cost-effective and reliable IoT devices connected to AT&T's 4G LTE-M network.
The LTE-M starter kit is a two-board solution comprised of the STMicroelectronics' STM32L475 IoT Discovery board and a cellular connectivity daughter card from Avnet. Other features include a modem module from WNC and access to lower-cost licensing options for ARM Keil MDK microcontroller software development tools.
The kit includes an onboard temperature and humidity sensor, multiple interfaces with the host microcontroller, SMA-connected external antenna and USB-connected AC/DC 5V power supply. The board stacks onto the ST Discovery board via Arduino Shield connectors to form a compact two-board assembly.
The starter kit is available in the Americas priced at $139.