It wasn't too long ago that virtual reality was a far-off, imagined technology of the future. While much of its potential may still be on the drawing board, getting a glimpse is as close as that phone in your pocket.

There are two categories of virtual-reality headsets on the market today: mobile and tethered. We're concerned here with the first of these, which are basically shells for your smartphone with lenses that separate the screen into two images. They are relatively inexpensive, and because all of the processing is done on your phone, they are also wireless. (Tethered headsets, by contrast, are physically connected to a PC or gaming console; their dedicated displays and external video processing allow for a far more complex VR experience. Dipping into this technology also requires a significantly higher investment.)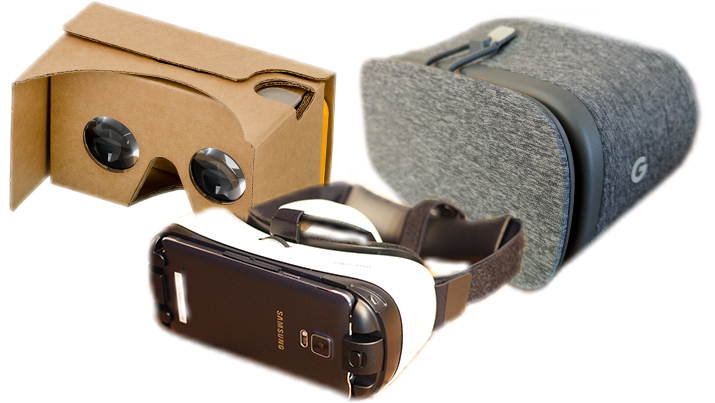 Left to Right: Google Cardboard, Samsung Gear VR, Google Daydream View (Credit: Wikimedia Commons/Evan-Amos; Maurizio Pesce from Milan, Italia; Shaded0)Probably the least expensive and simplest way to explore virtual reality is Google Cardboard, a hand-held viewer that looks like a plain cardboard box. The official version will set you back all of $15; alternate third-party versions (look for the "Works with Cardboard" Google certification badge) are available, as well. You can even make your own, and input its specs to Google for content optimization. To make it work, you'll also need the Cardboard app, which is available for free on both iOS and Android platforms. As you might expect, though, the experience has its limits. The device relies completely on the connected smartphone for head tracking and motion sensing, and the sensors on your phone are not nearly precise enough to create a true sense of "presence" in a virtual world.

If you're willing to shell out a bit more, however — in the neighborhood of $80-$130, say — there are a myriad of headsets with built-in sensors that create a far more robust VR experience. Instead of holding a cardboard box in front of your face, you strap these devices onto your head. Some are designed to work with a wide range of smartphones, such as the Zeiss VR One, which features high-end lenses and is specially designed to be compatible with eyeglasses. Others are designed for compatibility only with specific phones, which offers the advantage of being more closely optimized to the equipment you're working with.

One of the earliest devices to really turn heads was the Gear VR, made by Samsung and VR-pioneering company Oculus (now owned by Facebook). Compatible with a range of Samsung Galaxy smartphones, Gear VR also comes with a hand-held controller designed to respond seamlessly with organic, human movements. Google has introduced a similar device, the Daydream View, which works with "Daydream-ready" phones such as the company's own Pixel and Motorola's Moto Z.

Many more headsets are available; a Google search will give you a broad range of options. It's safe to say that headset offerings will continue to expand in the same way that smartphones continue to offer new and better features. Perhaps the larger trend, however, will be a shift toward standalone VR devices which require neither smartphones nor PCs to deliver virtual worlds. The 2017 edition of the International Consumer Electronics Show presented some examples, such as Intel's Project Alloy and Qualcomm's Snapdragon 835.

Stay tuned for more.