The New York Times (NYT) has just announced the launch of NYT V, its new virtual reality project in collaboration with Google, which includes shipping out over 1 million Google Cardboard viewers to home delivery subscribers along with the regular copy of The New York Times the weekend of Nov. 7- 8.
Times Insider subscribers and a selection of Times digital subscribers will also receive promo codes via email and be able to redeem them for a free Google Cardboard viewer, allowing anyone to experience virtual reality with a smartphone.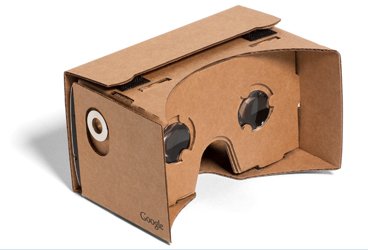 Google Cardboard. Source: GoogleTo kick off the partnership, the NYT will release the film called "The Displaced," which captures the resilience of three extraordinary children uprooted by war, all through the lens of virtual reality.
The NYT Magazine worked with Chris Milk and his virtual reality company Vrse, to create the film, allowing readers to really understand what it means to be a child in the global refugee crisis.
"The power of VR is that it gives the viewer a unique sense of empathic connection to people and events," says Jake Silverstein, editor-in-chief, The New York Times Magazine. "In the context of international reporting and conflict reporting, where our readers rely on us to bring them news and stories from remote and inaccessible places, this has huge potential. Through this immersive video experience, we can put our readers at the center of the most important story of our time."
The NYT developed the NYT VR app in collaboration with the virtual reality studio IM360. The app is compatible with iOS 8+ and Android 4.3+ and supports virtual reality playback for Google Cardboard as well as playback of 360-degree video for mobile touchscreen navigation. The app will be available for free download beginning Nov. 5.
"Google Cardboard brings the magic of virtual reality to anyone with a smartphone in an easy-to-use way," says Mike Jazayeri, director of project management for VR at Google. "We're excited to support The New York Times' use of immersive storytelling at an unprecedented scale to bring awareness to this important issue."
It is recommended that readers who receive their virtual reality glasses save them for future videos.
To contact the author of this article, email engineering360editors@ihs.com