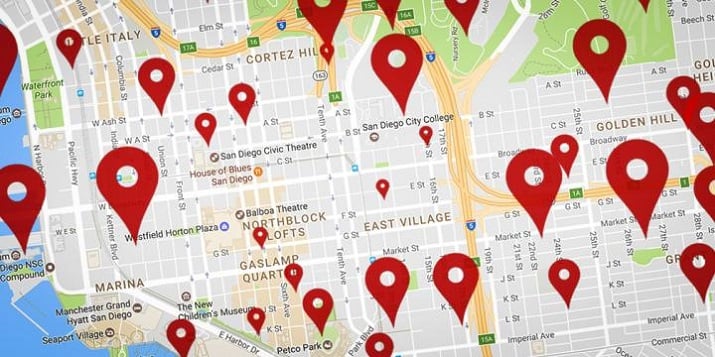 Fake businesses fool Google Maps by appearing close to a user when it is much farther away in reality. Image credit: UC San Diego
Location-based search has become a way for consumers to interact with online content even when not using a mapping application. However, scammers have found a way to take advantage of this by using fake locations to make it appear as if their business is in close proximity to the user.
But a partnership between the University of California San Diego and Google are cracking down on the abuse and were able to reduce fraudulent business listings in Google Maps by 70 percent. The researchers analyzed more than 100,000 fraudulent listings to uncover how scammers had been able to avoid detection and how they made money from the process.
When people use their mobile phones to run a search, the search engine uses their physical location as one of the inputs to decide which results to display. The abuse was most seen in on-call contractors such as plumbers and locksmiths. Researchers found that 40 percent of all fake listings on Google Maps fell into this category.
"I might find seven listings for locksmiths in my neighborhood," says Danny Huang, a Ph.D. student in computer science at the Jacobs School of Engineering at UC San Diego. "But in fact, none of those listings are real."
While searching for locksmiths, 11 percent of results were fraudulent. That number jumps when looking at particular locations such as New York where it went up to 15.6 percent. It went up to 83.3 percent when searched in the town of West Harrison, New York.
Scammers make money when they get called to help based on the fake listing. They might quote a low price when on the phone but the fee may be higher when they show up. They might not be even licensed.
Another abusive tactic involves scammers setting up fake pins for real hotels or restaurants in Google Maps. Scammers set up websites where customers make reservations linking to actual real businesses in order to make money either by getting a commission for each reservation or referring traffic to real businesses on real websites. Roughly, about 13 percent of the fraudulent listings had real hotel and restaurant addresses but were not created by these businesses, researchers say.
How They Got Away With It
Scammers were able to avoid detection because of Google's verification process. Businesses register for Google Maps online for free but before the listing goes live, Google sends a postcard with a verification code. The business then uses the code and the listing is approved.
These measures allowed Google to detect 85 percent of the fake listings before they even appeared on Google Maps with those that avoid the process taken down in about 8.6 days on average. However, by leasing a PO box or using an address that receives a verification code or adding fake suite numbers, fraudulent businesses could avoid the process.
Google is cracking down on fake businesses by prohibiting bulk registration at most addresses, preventing businesses from changing their address to a location that is far from the original without additional verification and detecting and ignoring intentionally mangled text in address fields to confuse Google's algorithms. Google plans to also fine-tune its anti-spam machine learning systems to better detect fake or deceptive listings.