New Vision Display (NVD) has unveiled a new outdoor digital signage product line, Sun Vision Display™. Sun Vision Display panels are built to address two of the most common challenges in outdoor liquid crystal displays (LCDs): poor sunlight readability (due to insufficient lighting) and high-power consumption (from high-brightness backlights). The new panels do not require a backlight and instead utilize a reflective LCD back layer which harnesses sunlight to illuminate the display.
Within the Sun Vision Display reflective LCD panel structure, a mirror-like layer is installed behind the liquid crystal layer inside the LCD cell. Ambient light passes through the LCD cell from the front side and is reflected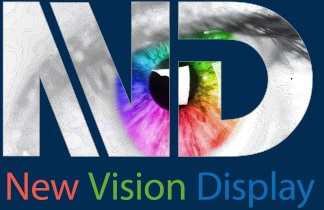 Source: New Vision Displayby the mirror back to the viewer. The brighter the sun shines light into the display, the more visible the display becomes for the viewer, all because of increased reflected light. Furthermore, the absence of a backlight reduces power consumption by approximately 95% over similarly sized high-brightness displays. This is a critical issue for more remote outdoor applications that may require battery or solar power supplies. For example, a Sun Vision Display panel can provide 5-8 hours of playback time on just a 12 V lithium battery.
Sun Vision Display panels are currently available in a 32-in diagonal size, with 43-in and 55-in diagonal sizes coming soon. All sizes offer full-HD resolution (1920(RGB) x 1080) and can be tiled together in 2x2 or 3x3 configurations for even larger digital signage areas. Sun Vision Display panels operate in temperatures ranging from -20° C to +70° C. They are an excellent low-power, sunlight readable solution for displaying key information and/or advertising in outdoor settings such as parks, public spaces, transportation hubs, restaurants, hotels, sporting venues and retail spaces.