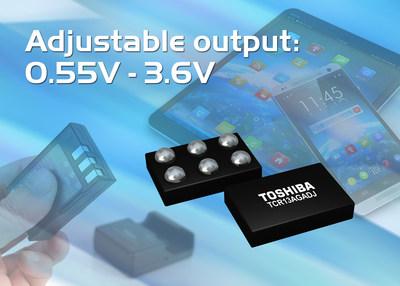 The TCR13AGADJ CMOS LDO. Image credit: TAEC
Toshiba America Electronics Components, Inc. (TAEC) has introduced a tiny 1.3A output current CMOS low dropout (LDO) regulator designed to reduce ripple noise from DC-DC converters and PMIC.
Ripple noise is a problem when designers attempt to supply power to applications such as cameras or RF parts. With a 90dB typical ripple rejection ratio, the TCR13AGADJ LDO is suitable where applications need stable output voltage at high output currents with low power. These applications include Wi-Fi chipsets for smartphones and tablets or for use in power supply control for wearable devices, notebook PCs, digital video cameras, storage products and set-top boxes.
Additional features include a fast load transient response, under-voltage-lockout function, soft start function, pull down connection between CONTROL and GND and over 4.7μF input capacitor, 1.0μF bias capacitor and 4.7μF output ceramic capacitor.
The LDO is available now.