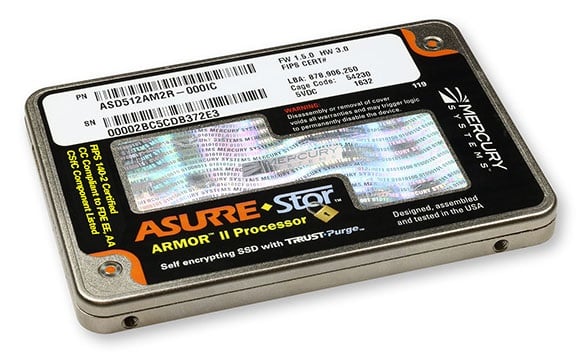 ASURRE-Stor. Image credit: Mercury
Mercury Systems, Inc., announced that it is making its ASURRE-Stor portfolio of self-encrypting solid state drives (SSD) commercially available. This product is engineered to the specifications dictated by the Commercial Solutions for Classified (CSfC) program, Federal Information Processing Standard (FIPS) 140-2 standards and the Common Criteria Full Disk Encryption FDE-EE and FDE-AA collaborative Protection Profiles (cPP). Customers can now start integrating Mercury's self-encrypting SSD into their security designs to protect data with an advanced encryption standard.
The new product has Mercury's ARMOR™ processor, which is an SSD controller designed and manufactured in the United States. It has 256-bit keys in the XTS block cipher mode. The ARMOR processor uses a suite of certified cryptographic algorithms that were developed by Mercury for secure defense applications to seamlessly integrate data at rest protections with predictable performance in thermally and mechanically stressful environments.
Mercury's new product marries high-endurance NAND flash with a SWaP-optimized, military-hardened 2.5" form factor optimized for high duty cycle operation in severe land, air and sea environments. Custom power management circuitry preserves data integrity without temperature-sensitive capacitor or battery technologies in an unforeseen power outage situation.
ASURRE-Stor SSDs can be ordered now and delivered within 60 days. To learn more about the product, visit here.