Microsemi Corp. has rolled out a XMC form factor serial advanced technology attachment (SATA) solid state drive (SSD) targeted at the industrial and defense markets.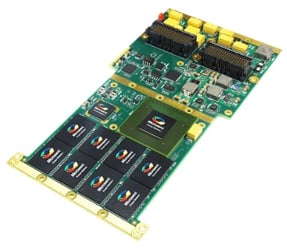 Microsemi's XMC SATA SSD offers self-encrypting drive technology for security protection. Source: MicrosemiThe SSD is an ANSI/VITA 42.3-2014-compliant PCI Express compatible and features Microsemi's TRRUST-Stor self-encrypting drive (SED) technology—a security method where no encryption key is stored in the SSD, leaving data forensically unrecoverable.
In embedded systems using secure SSDs, they typically require a bolt on external chassis for the drives, adding weight and size to the device. However, Microsemi says it gets around this by offering the SSD in a XMC form factor that plugs directly into the host card, eliminating the need for an external closure. Furthermore, the SATA SSD's security features include a hardware-based AES256 encryption and advanced key management systems. With this security in place, the SSD can erase the encryption key in less than 30 milliseconds and erase full flash storage media in less than 10 seconds with no trace of recoverable data.
The company claims the card-level XMC format offers the highest levels of security and reliability, something that is paramount in the industrial and defense markets.
Questions or comments on this story? Contact engineering360editors@ihs.com
Related links:
IHS Compute, Servers & Storage
News articles:
Seagate and Micron Alliance Yields First SSD
SSD Manufacturers Will Not Be Threatened by 3D XPoint Storage…Yet
Silicon Motion Buys Chinese SSD Startup
SanDisk Warning May Signal Larger Weakness in Enterprise Storage Market