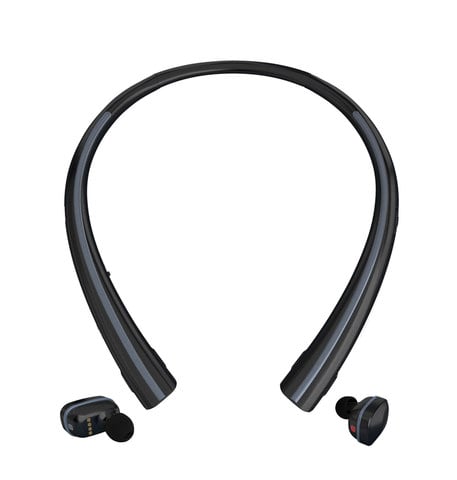 LG's wireless headphones can be charged around the neck with a neckband charger that also stores the earbuds. Image credit: LG
LG Electronics wants to help you to never misplace your earbuds again with its LG Tone Free wireless headphones that come equipped with its own wearable storage neckband.
The neckband may not necessarily set the fashion world ablaze, but it is an easy way to store the wireless earbuds when not in use. The band has slots for the earbuds that fits around your neck and charges them while not in use.
The neckband also has the capability for consumers to be notified of incoming calls and text messages through vibration alerts. If you don't fancy wearing a strange band around your neck, LG also offers a charging cradle for the earbuds.
The LG Tone Free headphones include dual microelectromechanical system (MEMS) microphones that allow users to answer or ignore incoming calls with voice commands. The earbuds work with the latest iOS and Android smartphones and are available nationwide at Best Buy stores priced at $199.99.