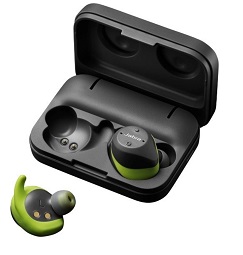 The Elite Sport earbuds. Image credit: Jabra
Jabra has introduced an upgrade to its Elite Sport wireless earbuds that extends battery life by up to 50 percent.
The Elite Sport earbuds now last for 13.5 hours of battery life allowing for almost a full day of continuous listening without any wires or additional depth to the earphones. The earbuds are the in-ear fitness type and can be used for both answering calls and listening to music. The audio device also can be customized for each ear type, contains a heart rate monitor and is sweat-proof.
Controlling the earbuds is done via the Jabra Sport Life App and it is priced at $249.99.