Each year at CES, attendees get to see the latest technological innovations from leading companies and startups, serving as a preview of the direction gadgets and electronic gear are headed. While CES 2021 will be all-digital this year due to the ongoing COVID-19 pandemic, the gadgets and gear are still coming, albeit in reduced numbers.
Here are some of the cool things to expect at this year's CES 2021.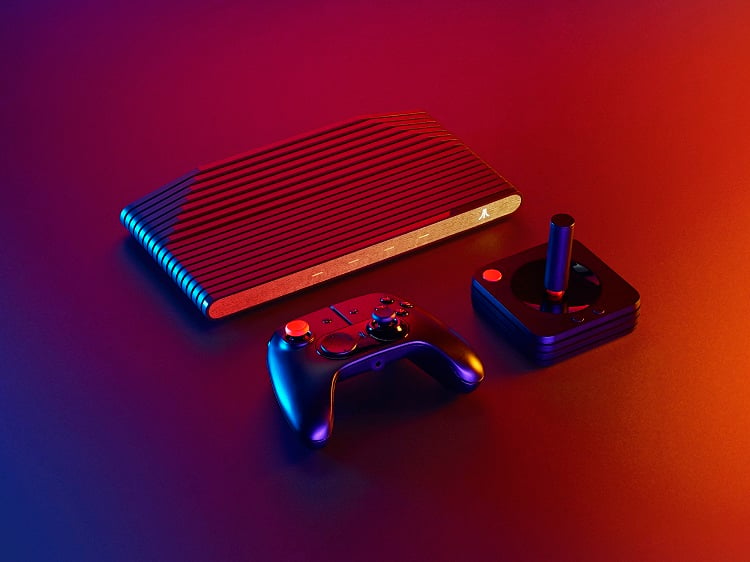 The Atari VCS may look like the classic gaming console, but it actually is a modern system that also has a chrome browser for media streaming. Source: Atari
Atari VCS
Introduced last year at CES 2020 but now finally reaching the finish line is the Atari VCS, which is billed as a PC-console hybrid device that is designed as an homage to the classic Atari gaming system.
At the Techfluence pre-CES event held this week, Michael Arzt, COO at Atari VCS, said the Atari VCS is a retro-inspired device that looks like an old school Atari console, but is a modern device that can play games in 4K. It comes with the Chrome browser and can stream content from major outlets such as Netflix, Hulu, HBO Max and Amazon Prime.
Additionally, the device allows users to switch between playing with scanlines so it appears as if the user is playing on an old school CRT TV. The controller also comes equipped with sensors and haptic feedback to rumble as well as LED lights that illuminate while playing games.
Arzt said the inclusion of Chrome opens a lot of streaming possibilities to platforms such as Twitch or YouTube.
The console-PC hybrid will be able to play about 150 retro games including "Adventure," "Asteroids," "Centipede," "Missile Command" and more. More modern games are also planned, including exclusive games for the device. Pre-orders are currently underway with delivery expected to take place in the spring.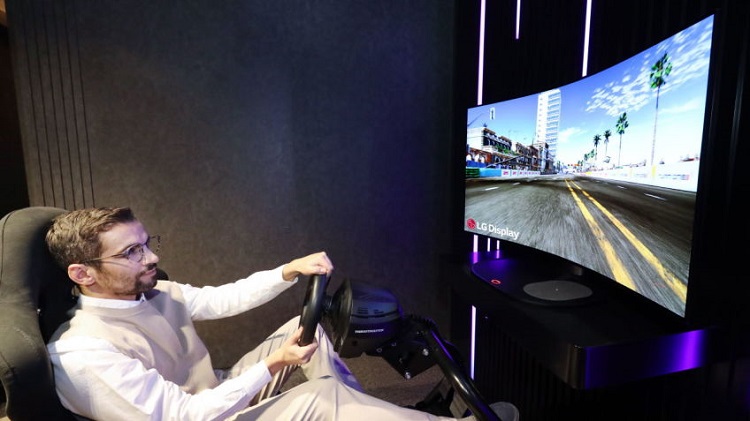 The 48 in bendable display is geared toward gamers that want a more immersive experience. Source: LG
LG 48 in bendable display
LG Electronics said it plans to introduce a 48 in bendable CSO display at CES 2021 with an ultra slim film exciter that vibrates the display. The thickness of the display is just 0.6 mm from 9 mm and allows viewers to see all angles of the screen.
Not much else is known about the display as LG is keeping the details quiet. Details are likely to come when the show begins.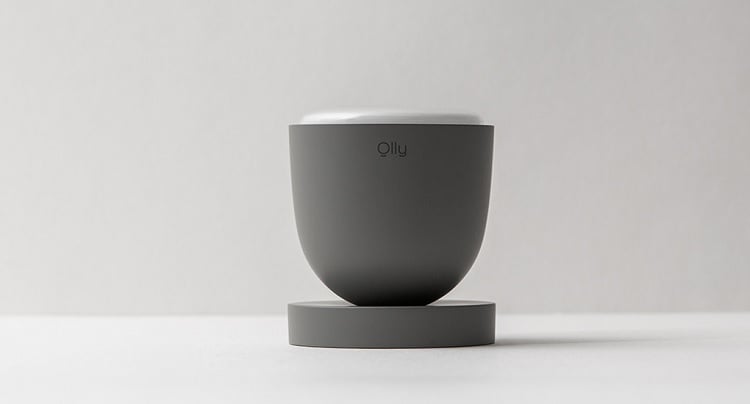 Olly is designed to help people get a better night's sleep. Source: Luple
Olly by Luple
A portable sunlight solution that is geared toward improving sleep. Luple Inc. is a startup and part of Samsung's C-Lab Outside incubator house. The device is billed as the first human centric light emitting diode (LED) from Samsung with optimized application upon personalized algorithms.
Olly improves sleep by controlling the amount of melatonin secretion in the body by producing the right kind of light so a user can sleep well without the aid of drugs.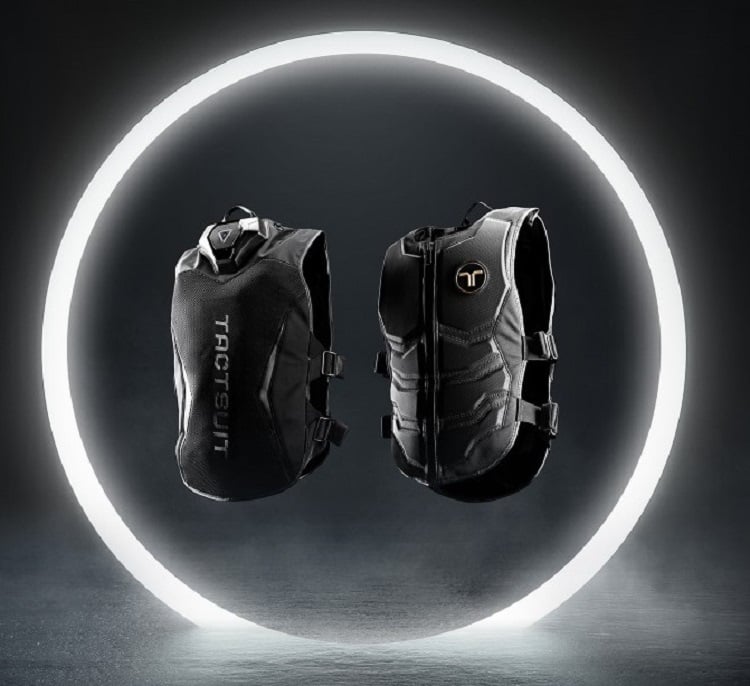 The TactSuit can be used for PC games, virtual reality, mobile gaming and console gaming. Source: bHaptics
TactSuit X40 by bHaptics
The TactSuit X40 from bHaptics is a wireless haptic vest that integrates 40 individually controlled vibro-tactile motors to deliver positional haptic feedback to the entire vest for a wide platform of entertainment options such as PC, virtual reality, mobile gaming and console gaming.
bHaptics said the TactSuit is the only haptic vest that has been integrated into VR games and comes equipped with Bluetooth 4.0, a 3.5 mm audio jack, USB Type C port and rechargeable lithium-ion battery. The vest can be powered for up to 18 hours depending on use and weighs about 3.3 lb.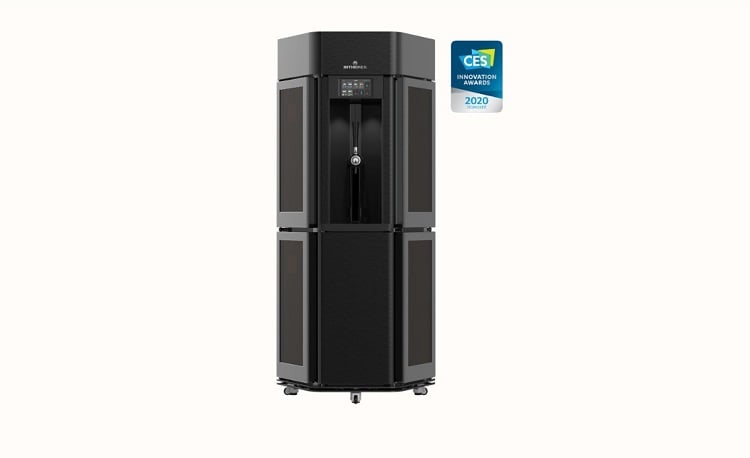 This is a home brew craft system that can create 180 liters of brew and is fully automated. Source: InTheKeg
InTheKeg Smart Brewery Platform
The Smart Brewery Platform from InTheKeg is a hexagonal column shape container that rotates 180° in both directions, allowing users to create 180 liters of home brew. The system is autonomous with automatic sterilization and cleaning as well as automatic yeast pitching and dry hopping.
The machine won a 2021 CES Innovation Award in the automation category. The beer craft system also includes remote management, the ability to upload information about production status, real-time monitoring for fermentation and aging status through the companion app. The platform also features a device error alarm to alert users to problems. And it even has a serving spout to pour the beer.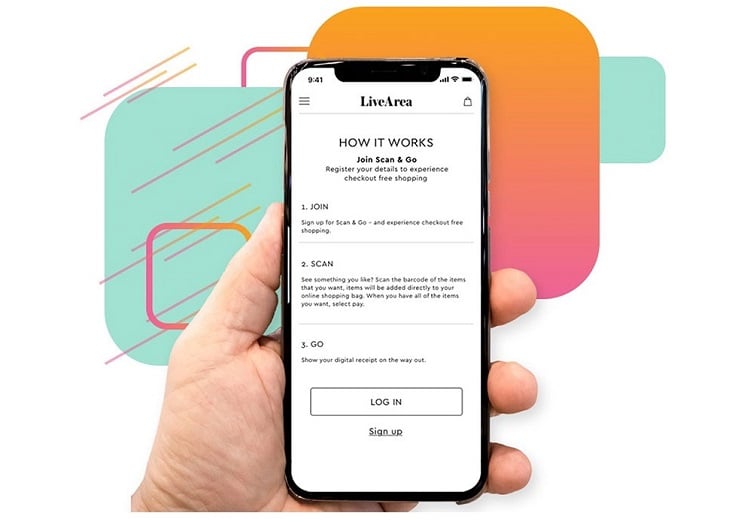 A new app that can help shoppers avoid contact in establishments and speed up the process of checking out. Source: LiveArea
LiveArea Scan and Go
LiveArea is debuting a new retail store app that allows shoppers to avoid checkout lines and shop without having to download any retail mobile app.
The app allows shoppers to scan barcodes of any products, use mobile payments on their devices and leave quickly after a store associate scans a digital receipt. In the age of COVID-19, this helps with social distancing mandates by avoiding contact as much as possible with retail workers.
The app helps retailers by selling products without putting employees at risk and it eliminates checkout lines, conforming to social distancing requirements.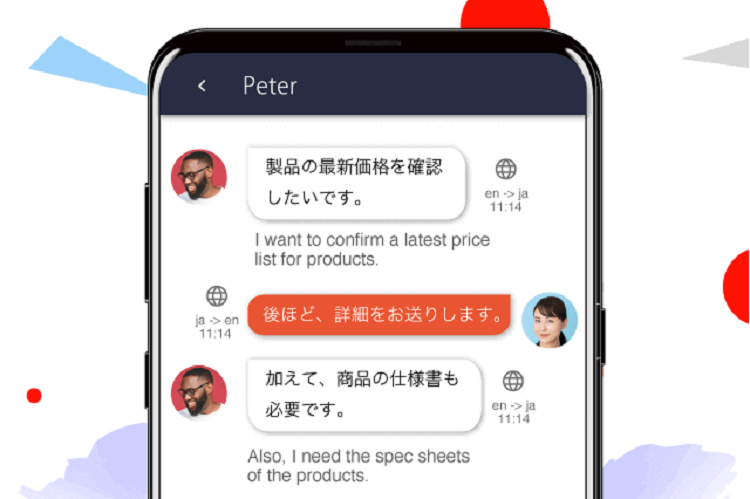 A web tool that allows those in the hospitality industry to communicate in 109 languages and maintain social distancing mandates. Source: Kotozna
Kotozna in-room
The Kotozna in-room is a web tool designed for the hospitality industry that enables hotel or other industries to interact with guests in real time while simultaneously translating roughly 109 languages. It also serves to communicate with staff in a contactless manner.
Kotozna, a Toyoko startup, is debuting the tool at CES 2021. The tool can be used on a smartphone or tablet web browser by scanning a QR code. Kotozna in-room also allows hospitality vendors to customize the platform to offer coupons, sightseeing information and other services that may be valuable to hotel guests.
Other features include a visual message board to keep track of interactions with guests, live chatting and chat bots, the ability to access other existing translation engines and it allows users to request other translations when the message is hard to understand.
New neckband headphones for professional market that include three microphones and 360° panoramic binaural audio. Source: Sabinetek
FinaLace by Sabinetek
A new type of Bluetooth audio device in the form factor of neckband headphones, is called FinaLace by Beijing startup Sabinetek. It includes two microphones embedded into the earbuds for 360° panoramic binaural audio and a third dedicated voice microphone near the mouth for voice pickup.
Receiving CES 2021 Innovation Award Honoree recognition, the headphones are designed to give musicians and content creators a studio experience. The audio device includes real-time monitoring to allow creators to mix voice, audio track and monitor volume in real time.
FinaLace can also be used for taking calls while eliminating all background noise and it can automatically transcribe meeting notes. Sabinetek will begin a Kickstarter campaign for the headphones beginning this month with expected shipping to begin in March.
CES 2021 is all-digital and takes place Jan. 11-14.