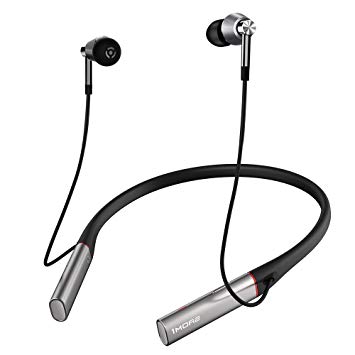 The 1More Triple Driver BT In-Ear Headphones. Source: 1More
1More has been named a CES 2019 Innovation Awards Honoree for its Penta Driver In-Ear Headphone, Triple Driver BT In-Ear Headphone, and Spearhead VR BT In-Ear Gaming Headphones. 1More is the only headphone brand to win this two years in a row for its innovative technology and value.
1More's new flagship model, the Penta Driver In-Ear Headphones (Penta Driver), is one of the devices behind the award. The Penta Driver has a universal earpiece with a tri-flange design. The earbuds have an ergonomic design with oblique angles to have a natural fit in the user's ears. The rubber ear hooks bend to the ear for a secure fit and have a balanced weight to keep headphones stable.
The Penta Driver also gives users the choice of wired or Bluetooth listening. These headphones are compatible with all the major Bluetooth codecs. AAC is geared towards iOS devices and offers high resolution and a high decoding rate with less storage. LDAC transmission technology enables 990 kbps of transmission speed, four times faster than ordinary Bluetooth.
1More has also been recognized as an Innovation Award Honoree for its Triple Driver BT In-Ear Headphones (Triple BTs). The wired version is the world's first THX™ certified headphone.
The Triple BTs feature two balanced armatures and a separate dynamic driver. With 1More's patented hybrid acoustic design, dual balanced armatures are uniquely inset inside a small chamber for lower distortion. The dynamic driver features 1More's patented sandwich structure design, with an aerospace-grade metal composite diaphragm being placed in between two outer layers of PET. The aerospace-grade layer is responsible for treble while the dual PET layers provide the bass.
The Triple Driver BTs offer a soft, ergonomic neckband and a skin-like silicone material for enhanced comfort during prolonged use. The neckband has a memory steel wire inside that allows it to be folded for easy storage in your pocket or the included travel case. The headphones feature a multi-functional controller for effortless control of volume, song selection and calls. The Triple Driver BTs also feature environmental noise cancellation (ENC) microphone technology that filters out background noises, so communication remains crystal clear even in loud environments. It has a 10-minute fast charge for 3 hours of use.
Also winning a CES Innovation Honoree Award is the 1More Spearhead VR BT In-Ear Headphones. These Bluetooth in-ears have a 35-foot connectivity range with low latency for real-time sound reproduction, 10-minute fast charging, dual-dynamic driver technology with graphene and titanium diaphragms, customizable LED lighting and the same environmental noise cancelling available in the over-ear VRX. The in-ears will allow mobile gamers to have the same immersive mobile gaming experience as 1More's fully-loaded over ear offerings.
1More Products will be displayed at CES 2019 Las Vegas. Learn more about this line of headphones on the 1More site.