The more gadgets we adopt into our home and work, combined with the rise in use of the internet for our daily news and entertainment, the less traditional objects such as pen and paper are used.
But what if you could have both?
reMarkable has developed a tablet that feels like you are writing on paper but with the ease of use and the unlimited potential of digital. Built with E Ink's canvas display, users can write and sketch directly on the tablet as well as transfer printouts, e-books or architectural designs to the tablet for modification or easy reading, all with the feel of actual paper.
Henrik Faller, VP of communications at reMarkable, sat down with Electronics 360 to discuss reMarkable's interesting tablet that replaces traditional notebooks, sketchbooks and printouts with a digital modern version.
1. How did the idea of a paper-like tablet come together?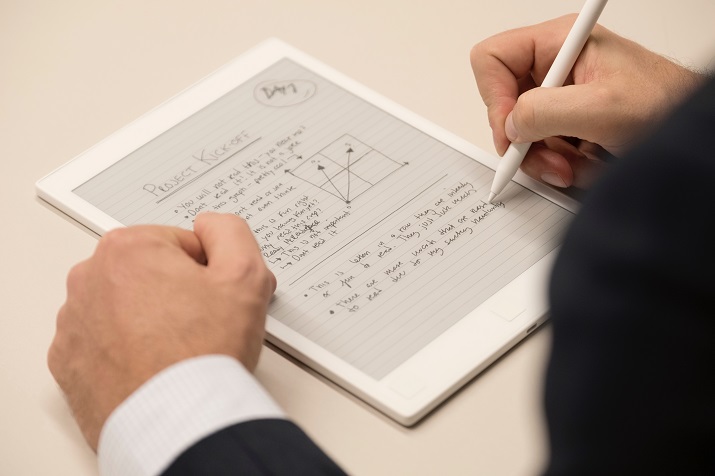 The canvas tablet could be used from universities to artists to architects to engineers to consumers. Source: reMarkable As a true paper person, Magnus Wanberg, the CEO and founder of reMarkable, has always brought notebooks and stacks of paper with him to every class or meeting.
A few years ago, he asked himself why we surround ourselves with digital tools like computers, tablets and smartphones, but still carry a notebook, sketchbook or stacks of paper around.
The reason? Paper is the ultimate tool for thinking. It lets our minds work without restrictions or distractions, and it makes us focus. At the same time, paper is also disconnected from the digital world, so it's not optimized for the time we live in.
In 2013, Magnus, together with a few colleagues, set out to create a connected and limitless digital paper experience: the first digital paper tablet for reading, writing and sketching. An elegant tool for thinking in the digital age, for those who cherish the simplicity and power of working on paper.
2. The canvas display is a pretty cool piece of technology, what manufacturing process does it take to make it and who is manufacturing the display for you?
We work only with established and leading partners on our development and manufacturing to ensure the highest quality. reMarkable is assembled by Shenzhen Kaifa Technology who also manufactures products for Samsung and Huawei, among others. E Ink supplies our custom-made CANVAS paper display, and industry leading WACOM is our partner on the high-precision Marker.
All three partners have dedicated teams that work hard to make reMarkable the most paper-like digital device yet. To ensure streamlined cooperation, we've partnered with manufacturing consultants Dragon Innovation, which supports hardware companies worldwide with unparalleled manufacturing expertise and quality assurance.
3. Where do you see reMarkable finding a home in the market? In universities? Book stores? Consumers and artists? Corporate environments? Or all the above?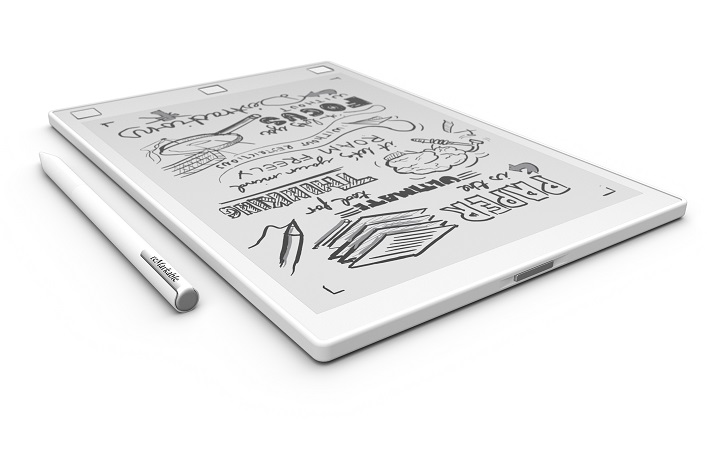 The tablet has the feel of paper with the ability to sketch and write directly on the surface. Source: reMarkable We believe there are many audiences that could really find good use of reMarkable. Especially, we are looking into three target groups, which we call working, learning and creating. By working, we mean consultants, engineers, lawyers and others who spend time in an office reading PDFs, printing documents and annotating and reviewing documents. By learning, we think of academics who read (e-books) or write and take notes. We believe these are researchers, students and teachers, among others. By creating, we think of designers, architects and creative people who like to sketch and draw when they are on the go.
4. Are you partnering with any media outlets to provide newspapers and magazines to be viewed on the canvas display?
There are many different opportunities that we are considering and there's nothing we can comment on now, but we are working hard to develop reMarkable and we have a lot of plans to make it into a new device category that is relevant to a lot of people.
5. Is the device compatible with other third party tools, devices and programs? Or is that something that may come along at a later date?
This is something that will come along later, but we are exploring many different solutions and opportunities. We look forward to communicating more about this in the future.
6. reMarkable seems to bridge the gap between taking handwritten notes and using a computer, in today's world where consumers want immediacy, do you see a growing number of other consumers looking to move away from computers and into paper and pen again?
reMarkable is a device that bridges the gap between digital and analog work flows. We want it to be an elegant tool for thinking in the digital age, for those who cherish the simplicity and power of working on paper. Ever since we launched in November, we have heard from thousands of people who say we are on to something because they are tired of getting distracted by digital devices. We don't think more people will move back to pen and paper, but we think there's an opportunity for digital devices to create better interactions between analog and digital experiences.
7. Do you see the tablet playing a role in other fields as well, maybe in health technology or in the industrial market?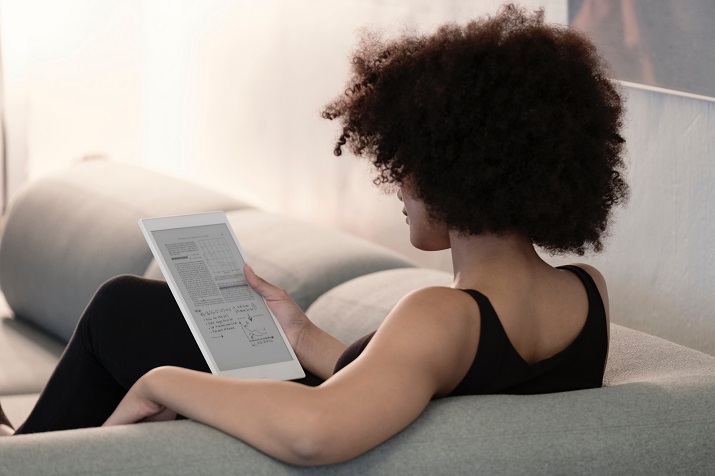 Architectural designs, e-books, newspapers, magazines, notes and more can be modified or read on the tablet. Source: reMarkable We have talked to people within many different areas, from healthcare, industrial markets and many others. We think that by creating a digital paper experience, our product might fit into almost any industry or category because today people still use notebooks even though they have all sorts of digital devices around. This shows that the market we're considering is not based upon any specific industries, but rather a global replacement of paper.
8. Is there anything that reMarkable doesn't do that you are looking to add into future iterations of the device?
We are considering several options, from handwriting recognition, integrations into existing technology, to improving notetaking, but, as of now, we are working hard to finish the product to get it out to our customers. First things first.
9. When will the tablet be available to consumers?
Consumers can already pre-order from our website, and we are selling out our capacity quickly. We have sold out of the August production batch. If you order today, then estimated shipping is September.