A collaboration between Wacom, ST Microelectronics and CEVA is in the works to enhance the digital pen experience with the power of advanced 3D gesture, cursor and motion control.
The effort, which leverages the specialized capabilities of each of the companies, is focused on a new wireless sensor module to extend digital pen functionality. The goal is to create an advanced, sensor-enabled digital pen that can be adopted by OEMs to add value to their smartphone, tablet, notebook, PC, interactive whiteboard and other smart-display products.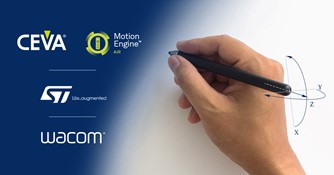 Advanced 3D gesture, cursor and motion control are in store for the digital pen experience, thanks to a collaboration between three players in the electronics space. Source: CEVA Inc.The new AES Rear IMU Module combines Wacom's digital pen technology with a custom version of ST's low-power, six-axis inertial measurement unit sensor and Bluetooth low energy system-on-chip (SoC), along with CEVA's MotionEngine Air motion-control software. The result is a low-power, compact design suitable for integration into any digital pen form factor.
According to a press release from CEVA, the sensor-enabled digital pen will also serve as a wireless presentation controller that can control an on-screen cursor with natural hand movements. It can be programmed to replace complex series of menus and taps with a single gesture. The integration of CEVA's patented orientation compensation and adaptive tremor-removal technology will ensure a highly consistent and intuitive user experience across a wide range of applications.
Wacom said it is the first company to develop a product with these advanced capabilities in an active electrostatic (AES) pen. The new module is targeted as a plug-and-play module accessory that seamlessly works with Wacom's AES digital pens with the applicable module connector. Its ability to control devices naturally, and at a distance, is designed to allow previously individual experiences to become communal and collaborative.
"Digital pen adoption is growing at an impressive rate and should continue, driven by innovative use cases and the increasing numbers of technologies that can be packed inside the pens," said Simone Ferri, consumer MEMS business unit director at ST Microelectronics. "The accuracy and small size of our IMU sensor and BLE SoC offer the ideal form factor to bring sensing and connectivity to the digital pen, and the reference design makes these technologies available to a wide spectrum of Wacom's customers."
A complete module reference design, now in development, will be customizable by OEMs to enable new applications, user conveniences and features. Click here for a video demonstrating the advanced capabilities of a motion-sensing digital pen.