Royole Corporation, a leading innovator and manufacturer of next-generation human-machine interface technologies and products such as advanced flexible displays, flexible sensors and smart devices, introduced its new Smart Writing Pad at CES 2018. Based on the company's unique and patented flexible electronics technologies, the unit accommodates real-time writing on standard paper with traditional pen refills. Users can immediately have a digital record sent directly to their smart device, computer and to the cloud, or transfer at a later time.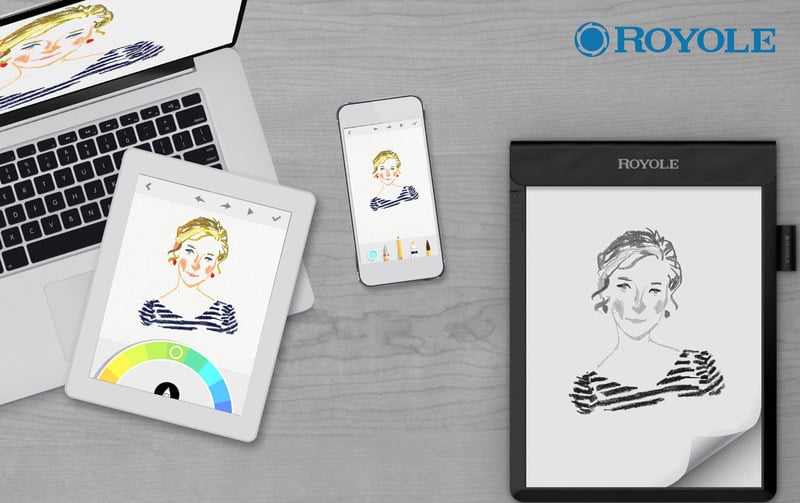 Smart Writing Pad. Souce Royole Corp.
"In today's world, written communication is overwhelmingly electronic," said Dr. Bill Liu, Royole founder and CEO. "Merging advanced Royole technology with traditional forms of written communications, our Smart Writing Pad allows users to quickly and accurately create, capture, store and share all manner of conversationally written material for digital applications."
With the Smart Writing Pad placed under a sheet of paper, any writing, drawing, or even scribbling can be reproduced directly onto any smart device or computer, where it then can be digitally saved. Everything can be done in real time; however, the device also works without any smartphone or tablet needed. Information will be saved directly into the Smart Writing Pad, where it can later be synced with a smart device or the cloud. With 2048 force-touch handwriting, an accurate representation of the written material – including pressure intensity – is ensured with no writing break off or delay.
The Smart Writing Pad offers users an improved, more intuitive, tactile experience of pen to paper rather than the less-than-ideal experience of writing directly on a tablet. Whether doing real-time designs for clients, taking notes in a business or education setting, or crafting creative designs, it allows you to easily capture and share these handwritten documents. A few additional applications the Smart Writing Pad provides solutions for include:
Company employees who want to save and share notes, presentations, etc., with co-workers or supervisors
Students can easily capture class notes or homework; especially useful for saving/sharing illustrations, drawings, calculations and formulas
Architects and designers can quickly sketch out ideas and send directly to clients for real-time feedback
Commercial and graphic designers can send renderings to clients or supervisors for critiquing and/or approval
Engineers can sketch visions, then instantly share with clients or fellow team members
Science, technology, engineering and mathematics (STEM) endeavors that entail writing formulae, diagrams, integrals, chemical compounds, etc., that are difficult to enter into a digital device using a keyboard are more easily done with the human hand
Virtually anyone who needs or wants to communicate creative concepts that go beyond simple text
About Royole Corporation
Founded by Stanford engineering graduates in 2012, Royole's mission is to improve the way people interact with and perceive their world. The company creates and manufactures next-generation human-machine interface technologies and products including advanced flexible displays, flexible sensors, and smart devices. Technology milestones include the world's thinnest full-color AMOLED flexible display and flexible sensors (2014), the world's first foldable 3D mobile theater (2015), and the world's first curved car dashboard based on flexible electronics (2016).
Royole has received numerous global awards for its technology innovations and fast growth. Holding over 1500 IPs, it provides IP licenses, services, and, mass production and solutions for flexible electronics applications with its novel "Flexible+" platform. Royole, backed by leaders in global finance, has built a new 1.1-million-square-foot flexible display production campus in Shenzhen, China with a total investment of USD $1.7B. Royole has offices in Fremont, CA, Hong Kong, and Shenzhen, China. For more information, please visit: http://www.royole.com/.