San Mateo, California-based Brilliant has made its debut in the smart home market with a smart lighting platform that does not require a smartphone, but instead can be controlled via voice, motion and touch activation.
The Brilliant Control system allows homeowners to replace existing light switches in favor of a touchscreen that allows users to control lighting, music, climate and other smart home devices. The technology will be integrated into Target Corp.'s remodeled Target Open House, a connected products concept store in San Francisco, which is opening this week.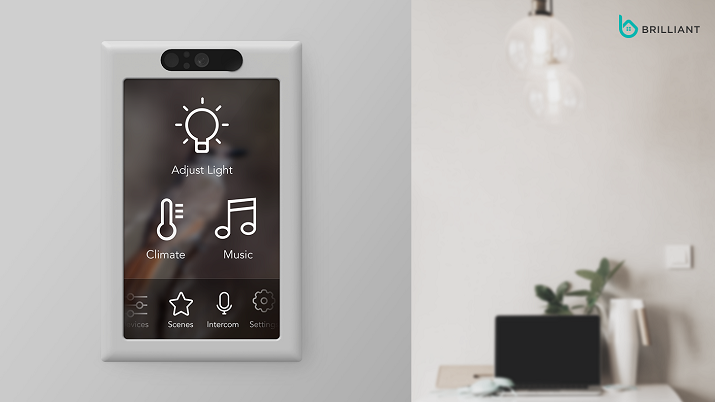 The Brilliant Control smart home system has Amazon Alexa voice commands built-in and connects to leading smart home devices. Source: Brilliant "While renovating my house, it was important to me that anyone in any room could adjust lighting, music and climate control as easily as flipping a light switch," says Aaron Emigh, co-founder and CEO of Brilliant. "Requiring a mobile phone and apps to adjust your environment is clumsy, and for guests or children, it's impossible. But every available system in the market costs tens of thousands of dollars and takes weeks to install, and still doesn't bring control to every room."
The system comes with a built-in camera, privacy cover and microphone so it can be turned into a video or voice intercom to a house. The touchscreen can also display motion art or family photos with seasonal nature scenes and theme packs available monthly, Brilliant says.
Brilliant Control comes with built-in Amazon Alexa voice services as well as the ability to work with other smart home devices such as Sonos, Nest, Ring, Philips Hue, SmartThings, Wink, Honeywell, security systems and many others
The system is available for pre-order now priced at $199.