Some readers may remember the 1970s country song, "Convoy," which told the story of a group of truckers rolling down the highway. Professional truck drivers have long known that driving together can save time and fuel, while providing added safety and companionship.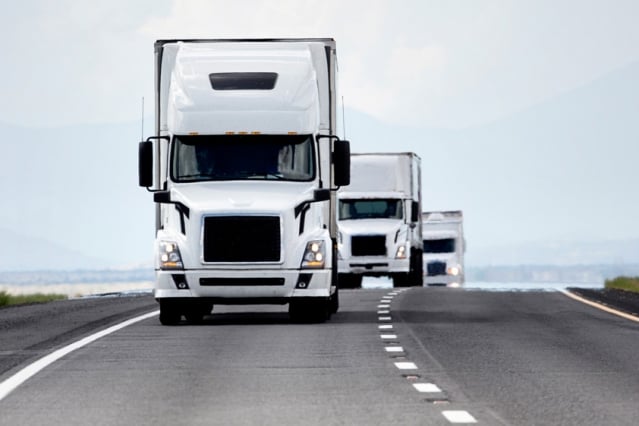 A platoon of autonomous vehicles cruising down the highway could reduce fuel costs and increase efficiency within the trucking industry. Of course, autonomous vehicles could enjoy the same fuel savings (if not the other benefits) by trailing each other in large platoons, like race car drivers drafting in packs.

But organizing an autonomous vehicle platoon carries many of the same challenges as gathering a convoy of truckers—the vehicles cannot afford to wait around at the last stop for other trucks to join them.

Massachusetts Institute of Technology (MIT) engineers have found a possible solution by developing a mathematical model that shows how simple, straightforward schedules could enable a platoon of trucks to leave a station or distribution center at the same time and travel together without unnecessary time delays. The research team's analysis was presented at the International Workshop on the Algorithmic Foundations of Robotics.  
How Drafting Works
Most of a truck's fuel is used in trying to overcome aerodynamic drag, pushing the truck through the surrounding air in order to accelerate or maintain speed. When trucks drive just a few meters apart, trucks in the middle can reduce fuel consumption by as much as 20%, while the last truck in the line saves about 15%.
But what is the best way to get the trucks in that line?

That is the question the group of MIT researchers sought to find out. The team included Sertac Karaman, MIT Class of 1948 Career Development Associate Professor of Aeronautics and Astronautics; Aviv Adler, a graduate student in MIT's Department of Electrical Engineering and Computer Science; and David Miculescu, a graduate student in MIT's Department of Aeronautics and Astronautics.
Mathematical Models of Scheduling Policies
The researchers developed a mathematical model to study various scheduling policies and their effects on fuel consumption and time delays.

Using the model, the group evaluated two forms of scheduling policies:

1. Timetable policies, where vehicles assemble and leave together at set times;
2. Feedback policies, where the vehicles leave only when a specific number of vehicles are available to join the platoon.

Within these two models, the researchers looked at the effects of sending vehicles out at regular intervals—such as every five minutes—versus staggered intervals, and at sending the same number of trucks out, rather than varying the number of trucks each time.

The team discovered that the simplest schedules conserved the most fuel with the fewest delays. Feedback policies with the same number of trucks each time saved about 5% more fuel than timetable policies, where trucks were sent out at regular intervals.

Advantages of Autonomous Vehicles in Platoons
Human truckers sometimes draft to save fuel and money; the closer the trucks get to each other, the greater the savings. But it is not necessarily safe for human drivers to follow closely behind other trucks. In the models suggested by Karaman and his team, autonomous driving systems could follow at distances of just three meters apart for long stretches, resulting in optimal fuel savings.
Applications in Autonomous Ride-Sharing Services
The simulations could also aid in cost and energy savings for autonomous ride sharing, where a system of driverless shuttles transports passengers between stops. The researchers' mathematical models could help determine the optimal number of passengers per shuttle and the optimal departure schedule to minimize fuel expenditure, maximize efficiency and increase profitability of such services.

A New Era of Transportation
"We believe that ultimately this thinking will allow us to build new transportation systems in which the cost of transportation will be reduced substantially," says Karaman in a report issued by MIT. This research was funded, in part, by the National Science Foundation.