Bosch believes the future of truck driving resides in technology and the ability to harness the power of autonomous driving and electrification into a fleet of super trucks that will platoon with other trucks in order to make long journeys more safe and easy.
The VisionX concept study, which Bosch will be presenting at the 66th annual IAA Commercial vehicles trade show this week, will look to not just improve the safety of the vehicles and of drivers, but will also offer a major boost to transportation efficiency. "Connected, electrified and automated—that's the future of trucks," says Dr. Markus Heyn, member of the board of management at Robert Bosch GmbH.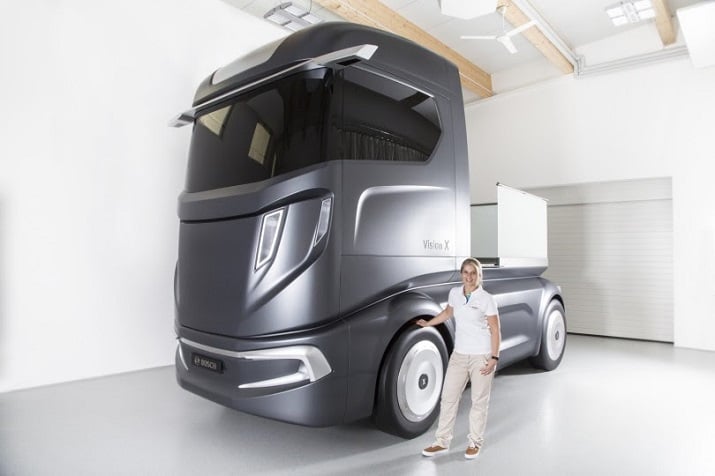 The VisionX super truck is a 40-ton smart device that can platoon with similar trucks, allowing drivers to travel hands-free and let the computer do the work. Source: Bosch Bosch says the project will include using multiple assistance systems in the vehicle along with automation to make trucks safer and more reliable. The trucks will receive all the data, in real-time, through the Bosch Internet of Things (IoT) cloud, informing drivers of route, traffic congestion, detours and unloading facilities available at their destination. Some of the aspects of driving will be taken over by the truck itself.
Once a truck reaches a freeway, for example, it joins a platoon where a number of trucks follow a lead vehicle to which they are electronically connected and linked. The convoy members accelerate, brake and steer in sync. A driver would drive the truck until it finds a suitable convoy. When the truck reaches its destination, the driver resumes control to complete the journey in manual or partially automated mode, Bosch says.
"Once the truck joins a convoy on the freeway, drivers can start planning their next route while still remaining in complete control. They can access all key information on the screens in their cab and take the wheel if they need to," Heyn says. "Connected and automated trucks are the future, and we are looking to play a major part in their development."
The project includes taking the diesel engine and combining it with electric motors for auxiliary systems, such as the hydraulic pump. This hybrid truck will not just receive the safety bonus of being connected while braking or steering, but also its efficiency will receive a boost. Bosch says slipstream driving enables fuel savings of up to 10%.
With VisionX, drivers' lives will also become easier, from accepting shipping documents to loading the truck, to carrying out automated maneuvers once the truck arrives at its destination. Drivers can also locate and reserve parking spaces along the route to ease the stress of a long journey.
To contact the author of this article, email engineering360editors@ihs.com