Heptagon has introduced the ELISA 3DRanger, the first of the company's 3DRanger family of time-of-flight (ToF) ranging sensors to offer a five-meter range. ELISA increases the previous maximum range (2 m) by over 2×, more than doubling the sensor's ability to measure distances under certain conditions. Heptagon says that ELISA—when integrated with a smartphone camera—enables new applications, such as virtual measuring tape, security features, people counting, augmented reality and enhanced gaming. The range extension also improves auto-focus applications.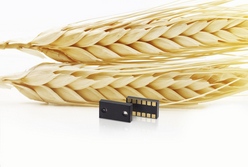 Packing dual functionality, Heptagon's ELISA 3DRanger more than doubles the range of previous devices in the 3DRanger family. Image source: Heptagon. The sensor's other new features include SmudgeSense, Heptagon's active smudge-detection and resilience technology, and a 2-in-1 Proximity Mode, adding close-in ranging functionality that permits using ELISA in front-facing applications with very limited real-estate impact. This supports applications such as real-time video chat filters or automatic selfie zoom adjustment. In addition, a new "Always On" continuous-measurement feature minimizes power consumption in Internet of Things (IoT) systems.
ELISA is a complete smart sensor module with an integrated microprocessor, adaptive algorithms, advanced optics, ToF sensor and light source. It is pin-, footprint- and program-compatible with Heptagon's other 3DRangers. This significantly simplifies adoption for existing OLIVIA and LAURA customers, and provides a simple upgrade path to Heptagon's multi-point TRINITY.
SmudgeSense
Dirt and smudges can become a problem for any optical sensor—affecting performance across multiple dimensions, including ambient light sensitivity, measurement range and accuracy. When taking pictures, end users might not be aware of a problem until they get a blurry or out-of-focus result. ELISA incorporates a technology it calls SmudgeSense. By using built-in, patented ToF smudge pixels, ELISA is able to detect high levels of smudge in real-time, and alert the user about a problem through software.
2-in-1 ToF Proximity Sensing Mode
ELISA's new 2-in-1 Proximity Mode delivers proximity and range-sensing functionality for both front- and rear-facing cameras. It can replace existing proximity sensors that are used to turn off the screen while making calls, thus preserving valuable real estate and aesthetics on the front of the phone. The addition of ranging functionality brings the advantages of a fast laser auto-focus to the forward-facing camera. When utilized in a rear-facing application, the Proximity Mode can be used to detect when the phone is placed in a pocket or is lying on a surface. In Proximity Mode, distances between 10 mm and 80 mm are measured, and the sensor provides a flag when a user-defined threshold is reached.
IoT "Always On" Feature
For power-sensitive IoT applications, ELISA includes an "Always On" continuous-measurement feature. The sensor is able to continue capturing measurements, even if the host processor goes into sleep mode. ELISA can then wake the host processor once an object is detected. This helps conserve power at the system level.
Mass production of Heptagon's ELISA 3DRanger begins this month.