STMicroelectronics announced the VL53L0X laser-ranging sensor—the second generation of the company's FlightSense time-of-flight (ToF) ranging technology. The VL53L0X extends the ToF measurement range to two meters, and is accurate to within ±3%. It is also faster, measuring distance in under 30 ms, and highly energy efficient, consuming 20 mW in active-ranging mode and drawing 5 µA in standby.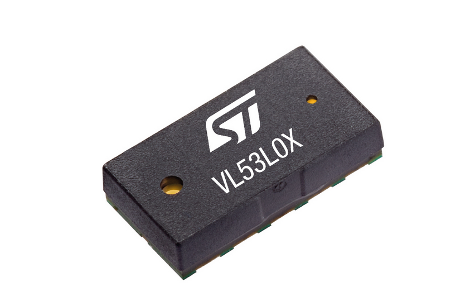 In addition to a compact 2.4 mm x 4.4 mm x 1 mm package size, STMicroelectronics' VL53L0X second-generation laser-ranging sensor extends measurement range to two meters. Image source: STMicroelectronics ST says that in contrast to conventional infrared proximity sensors, the VL53L0X gives accurate distance measurement in millimeters, and is unaffected by the color or reflectivity of the sensed target. Its FlightSense technology can also distinguish movement towards or away from the sensor or from side to side. Minimizing demands on the system host controller, the VL53L0X calculates range internally, communicating results over the I2C bus. Its maker considers the new ranging sensor—at 2.4 mm x 4.4 mm x 1 mm—to be the smallest such device on the market.
The integrated eye-safe laser emits non-visible light of 940 nm wavelength, which eliminates the noticeable red glow typically associated with other infrared proximity sensors, and improves immunity to interference from external light sources. The sensor's digital architecture and automatic light compensation further enhance performance in scenes with high ambient lighting levels.
The sensing capabilities of the VL53L0X can support a wide range of functions, including gesture sensing or proximity detection for new innovative user interfaces, wall detection, cliff detection and collision avoidance for robotic appliances such as vacuum cleaners, as well as hands-free actuation of home appliances or washroom devices such as faucets, soap dispensers, hand dryers and flushers. Other applications include distance-measurement for drones and Internet-of-Things (IoT) devices, and user-presence detection for power-on/off control of laptops and monitors.
To support fast and easy integration, the VL53L0X is supplied with a software application programming interface (API), full documentation and example source code. Developers can take advantage of the X-NUCLEO-53L0A1 expansion board, which can be connected to the family of STM32 Nucleo microcontroller boards for easy evaluation of the VL53L0X's performance.
The VL53L0X is in production now in a 12-pad, reflow-compatible module, priced at $2.30 for orders of 1,000 pieces. For mass-production orders, minimum order quantity is 5,000 units.