3D imaging and optical sensing solutions provider Heptagon has announced a 3D range sensor based on time-of-flight (ToF) distance measurement. Named OLIVIA, the new sensor integrates a microprocessor, adaptive algorithms, optics, the ToF sensor, and a 850 nm vertical-cavity surface-emitting light source (VCSEL).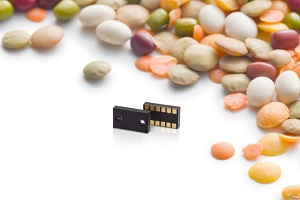 Heptagon's OLIVIA 3DRanger Time-of-Flight Smart Sensor. Image source: Heptagon
Heptagon rates OLIVIA as especially suitable as a camera auto-focus assist system to enable fast auto-focus lock for primary and front-facing smart phone cameras, even in dim lighting conditions or when recording video. The company considers the new sensor as complimentary to — and a performance enhancement for — traditional contrast auto-focus as well as more recent phase detection auto-focus (PDAF) systems embedded in image sensors, which typically perform less than ideally in low-light conditions and for video capture.
OLIVIA measures distances up to 2 meters (with ± 15 percent accuracy) in normal lighting conditions. It functions reliably with constant performance independent of an object's reflectance. According to Heptagon, OLIVIA requires 40 percent less power when ranging than alternate solutions. The company credits its patented phase modulation ToF pixel with high sensitivity and speed, as well as excellent background light rejection.
In developing OLIVIA 3DRanger, Heptagon says it focused on long-distance ranging, low power, small size and ease of use. OLIVIA monitors the environmental ambient light, automatically adjusts exposure settings, and calculates the distance. The user reads the result through a standard I2C interface.
Class 1 laser eye safe, OLIVIA comes in a 4.8 mm x 2.8 mm x 1 mm, standard reflow compatible, RoHS and REACH compliant package.