American inventor Thomas Edison created the long-lasting and practical lightbulb that revolutionized modern lighting, but he also created the phonograph as well as the motion picture camera.
Some of his legacy was auctioned off this past weekend to the tune of about $60,000. Keys to Edison's New Jersey laboratory, where he performed many of his experiments, were included in the auction, such as those labeled "invention factory," "motor shed" and "shop." The keys sold for $10,625.
A set of five Edison lightbulbs sold for another $30,000, and an incandescent lightbulb that was created by a German inventor that claimed to have invented the lightbulb before Edison sold for $23,750. The set of bulbs were used in a patent infringement lawsuit that Edison used to prove his technology.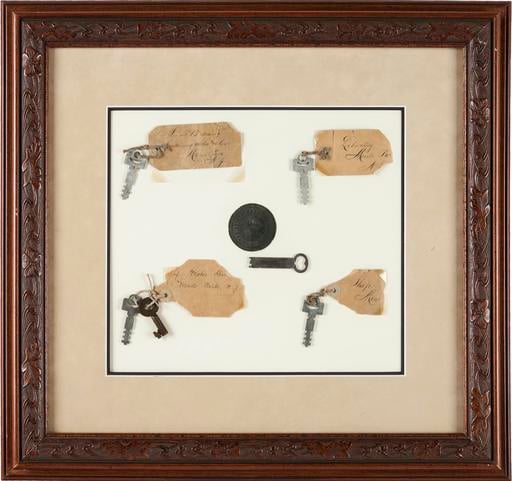 The keys to Thomas Edison's New Jersey laboratory and lightbulbs he created that were sold in the auction. Source: Heritage Auctions Edison, known as the "Wizard of Menlo Park," was one of the first inventors to apply mass production to their work. The lab in New Jersey was considered the first research and development facility ever built back in 1876.
Edison garnered more than 1,000 patents related to his inventions, 400 of which were centered on the lightbulb.
Edison's Menlo Park property is now a national historical site and state park with a museum and education center on the achievements of the inventor.