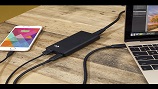 NewerTech, a performance upgrades and accessories supplier for Macs and other Apple products, has introduced the NewerTech NuPower 60 W USB-C Power Adapter, a dual-port, fast-charging adapter for Mac and Windows USB-C compatible MacBooks, laptops, Chromebooks and standard USB-A devices, including iPhone and Android smartphones, tablets and storage drives. The adapter enables users to consolidate the power adapters required while traveling for a lighter load to charge smartphones, tablets and laptops quickly on the road.
The NuPower 60 W USB-C Power Adapter provides two ports: one port with 60 W to charge the latest USB-C devices, and one port with 12 W to simultaneously charge current standard USB-A devices, including high-powered devices, such as tablets and external drives, as well as smartphones.
Rated 5 V at 6 A, the adapter can charge USB devices up to 2X faster than comparable chargers. The NuPower adapter is a seamless replacement for the laptop's original power adapter, and is compatible with Apple, Dell, Lenovo, HP and other USB-C laptop power adapters. It measures 2 inches wide by 4.2 inches long by 0.8 inches high, and it weighs 0.3 pounds.