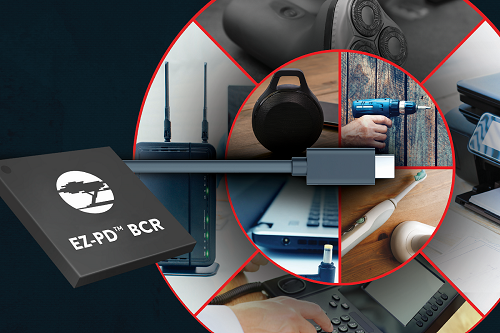 The EZ-PD BCR. Source: Cypress SemiconductorCypress Semiconductor Corp. has introduced a USB-C power delivery (PD) solution designed to reduce the e-waste from power adapters produced every year.
The EZ-PD barrel connector replacement (BCR) can be used to replace barrel connectors in power adapters as well as legacy USB micro-B connectors that provide only 7.5 W — not enough to power most consumer or industrial devices. USB-C connectors with PD provide up to 100 W and are used in automobiles, smartphones, laptops, peripherals and tablets.
Cypress will demonstrate its EZ-PD BCR offering at the upcoming Embedded World 2019 taking place in Nuremberg, Germany, on Feb. 26-28.
Cypress has created an EZ-PD BCR kit that enables developers to prototype products from a conventional power adapter to a USB-C PD.
The BCR controller integrates a complete Type-C USB-PD transceiver, a load switch controller with a soft start, all termination resistors required for a USB-C port and system-level electrostatic discharge (ESD) protection on a single chip.