OmniVision Technologies, Inc. has announced the OV10650, a new wide-format image sensor that captures high quality color images and video in a 2:1 aspect ratio. Built on OmniVision's 4.2-micron OmniBSI-branded split pixel technology, the 1.7-Megapixel OV10650 delivers 1820 x 940 resolution at up to 60 frames per second and 120dB of dynamic range with what the company calls best-in-class low-light performance. The sensor is compatible with OmniVision's new image signal processing (ISP) companion chips (OV491 and OV495) for display-based automotive applications.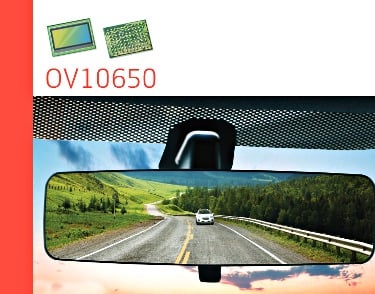 OmniVision Technologies releases a pair of wide-format image sensors targeting automotive applications. The company considers the OV10650, with its wide field of view and high dynamic range, to be ideally suited for next-generation rear video mirrors utilizing wide, high-resolution displays.
OmniVision is also launching the OV10652, which delivers the same high performance and specifications as the OV10650, but utilizes an RCCC color filter pattern for automotive camera integrators designing front-view advanced driver assistance systems (ADAS). Both OV10650 and OV10652 are specified to meet the standards required by the 2018 New Car Assessment Program (NCAP). Systems based on these sensors can enable features such as pedestrian detection, lane departure warning, headlamp control, forward collision warning and traffic sign detection.
The OV10650 and OV10652 each come in AEC-Q100 Grade 2-qualified, compact 9.5 mm x 6.8 mm chip scale packages. They also contain an advanced set of features to enable ISO26262 ASIL B-rated camera systems. Both sensors are currently available for sampling and are expected to enter volume production in the third quarter of 2017.